(FORT BEND) – National Make a Difference Day was on Saturday, October 28, but for the students and staff at Texas State Technical College in Fort Bend County the project continues beyond one day.
TSTC has partnered with Fort Bend Community Revitalization Projects (CORPS), a nonprofit corporation that has completed repairs on more than 3,500 homes in Fort Bend County, and its Hearts and Hammers program, which focuses on the exterior restoration of homes.
"This is the first time we've partnered with them and it's been a success," said TSTC Director of Student Services Georgeann Calzada. "I like to form relationships with different organizations in the area since TSTC serves Fort Bend County not just Rosenberg."
The students were set to paint a 55-year-old home belonging to an elderly woman during Make a Difference Day, but because the house required additional work and the yard needed care, painting was postponed for November 4.
"Our students want to do a good job and get the job done right," said Calzada. "So the decision to postpone the painting to do the additional work was a group choice."
Instead, the students mowed and manicured the lawn, cleaned debris that was left over from the flooding caused by Hurricane Harvey, power washed the home and removed old paint.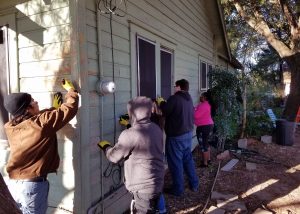 "I'm so proud of our students and their dedication to this project," said Calzada. "It really shows their character and commitment to making a difference in their community."
For Electrical Lineworker Technology student Madison Ellis this was his first National Make a Difference Day, but as a long-time volunteer for the Special Olympics he is no stranger to community service.
"I love helping people and creating blessings," he said. "The house we're working on is someone's home and our goal is to create a safe, comfortable and beautiful environment for the owner."
This is why it was important to Ellis and his peers to put in the extra elbow grease. Calzada said she is excited for their second Saturday on the project and expects additional TSTC students and staff to join them.
"These students have really encouraged their friends to come out and help," she said. "Many have gained new perspectives on their lives, appreciation for what they have and are encouraged to do more in their community."
This is the second year TSTC's Fort Bend County campus participates in National Make a Difference Day.
TSTC Executive Director of Student Life Adele Clinton said statewide, among TSTC's 10 campuses, the number of student volunteers for this day has increased exponentially with close to 400 students putting in at least 1,500 volunteer hours.
"Statewide we've seen the need for students to do service," she said. "They love it and when students engage in community service they learn communication skills, teamwork, conflict resolution and that volunteerism is fun, while promoting TSTC in their own backyards."
For more information on TSTC and the programs it offers, visit tstc.edu.