(HUTTO) – The American Welding Society honored Texas State Technical College welding instructor A. Keith Wojcik for 25 years of service in the welding industry and in higher education at its annual FABTECH conference in Chicago.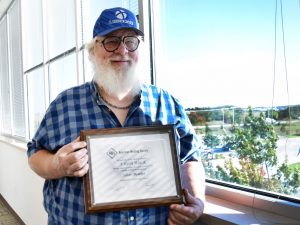 Wojcik said the award is a personal milestone.
"It means that I didn't give up," Wojcik said. "It's 25 years of persistence, 25 years of plugging away. The reason my students got to see that is because I wanted them to understand the importance of being a professional and I did that by my actions, not by my words."
Wojcik was inspired to become a welder by his college professor Roy Hulfachor.
"He told me, didn't ask, but told me I was going to be his lab assistant and I was going to teach an introductory class," Wojcik said. "He was a great man. He became my professor, my boss, my mentor, my guidance counselor and, probably the biggest thing, is he was a friend of mine. So I didn't get to choose welding, it chose me."
Early after graduating from college, Wojcik began both welding and teaching.
"I've done both for virtually my entire career," Wojcik said. "I would weld during the day and I would teach at night. It started one week after I had graduated. I was told by Roy that the local community college needed a welding instructor, so I became the welding department at Kishwaukee Community College in Malta, Illinois. I was a department of one."
Later, Wojcik went on to work at Caterpillar Inc. in Aurora, Illinois.
"I started as a welder and got into management training at that point, at the ripe old age of 23," Wojcik said. "I became the youngest supervisor ever in that plant. And I taught school at night. I taught continuing education for the Aurora school district."
Later, Wojcik moved to Houston where he worked for Airco Technical, and started the Research and Development department at CRC Automatic Welding with his Airco co-workers. After getting married and having a daughter, the family moved to the Austin area, where he taught welding at Austin Community College for 13 years. He began teaching at TSTC in April of 2012.
Wojcik, currently a Round Rock resident, said his proudest moment as a teacher came at the FABTECH conference, when he saw a former student speak.
"I was so proud when I heard the words uttered 'My name is Alejandro Alvarez and I'm a doctoral candidate in Welding Engineering at Ohio State University,'" Wojcik said. "I met his advisor and he said 'Alex speaks very highly of you because you pushed him in that direction.' That is the pinnacle of my teaching career: that I inspired somebody so much that he would get a doctorate in Welding Engineering. It doesn't get better than that."
Three of Wojcik's welding students attended the conference in Chicago as well.
"I know I'm making an impact because I have three students that showed up in Chicago just to see what was going on," he said. "The only draw was this show and the fact that I was getting an award. They all came back excited. I'm passing on the torch, if you will."
Wojcik credits his mentors with helping him in his career and is glad to show his students that way as well.
"I've had many great mentors who never really gave me a straight answer; instead they gave me a path to follow," Wojcik said. "I try to do the same. It's not about the end, it's about the career."
The American Welding Society (AWS) was founded in 1919, as a nonprofit organization with a global mission to advance the science, technology and application of welding and allied joining and cutting processes. AWS strives to move the industry forward in both thought and action, as well as inspire new generations to see the exciting career opportunities available today.
For more information on Texas State Technical College and the welding program, visit tstc.edu.