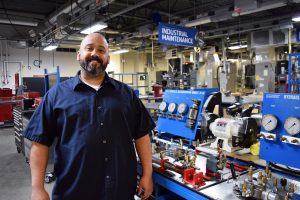 (HUTTO) – When Industrial Maintenance student Jesse Franco walks the stage at Texas State Technical College's fall commencement Friday, he'll be completing a long-anticipated goal.
Franco began taking classes at TSTC in Williamson County in 2015, but his work schedule only allowed him to attend school part time.
"Normally half of the guys graduate in three or four semesters, a year and a half," Franco said. "It took me almost three years. I'm very happy right now. I'm making sure I'm going to walk too, because I earned it. Golly, I earned it."
Franco began the degree hoping to become a maintenance mechanic at ICU Medical, where he has worked for 17 years.
"I always wanted to be a mechanic there at work, but unfortunately I needed the degree," Franco said. "They don't take your word for it, even if you can show them you have experience. They want to know you can do it, and how do they know? Your degree. So whenever this school opened in Hutto, I was very excited because I didn't want to drive an hour and a half to Waco to get it done. When this school opened, it opened up a lot of opportunities for me."
The degree Franco will earn Friday helped him go a step further than maintenance mechanic. Earlier this year he was promoted to supervisor.
"I manage and supervise 20 people on the production line," Franco said. "I make sure everything is running okay and communicate with the mechanics."
Industrial Maintenance instructor Lance Antilley said Franco is a hard worker.
"Jesse deserves this," Antilley said. "He would help the younger guys in class. He was kind of a leader to them because he could share his life experience."
Franco is among 46 students eligible for graduation at the Williamson County campus and will finish his time at TSTC with a 4.0 GPA.
He enjoyed the technical aspects of TSTC.
"I'm more hands-on than I am a bookworm," he said. "It's great to be able to do the book work and actually put it into practice. For me, it stays better and I learn quicker that way too."
He also enjoyed the rapport with his instructors.
"The instructors see our weaknesses and try to make them our strengths," Franco said. "They guide us, and I like that a lot. They get involved with us and try to have a relationship with you. That's what I enjoy about it. You're not just being taught; you actually get to build a relationship, even with your fellow classmates as well. There's a strong bonding, and that's what I enjoyed the most."
His advice to those considering TSTC? Put in the work.
"The resources are there for you to learn and to graduate; you need to do the work, though," Franco said. "Everybody is willing to help you out."
TSTC provides training in specialized, hands-on instructional courses leading to Associate of Applied Science degrees and Certificates of Completion in areas such as Cyber Security, HVAC, Industrial Maintenance, Culinary and more.
TSTC has more than 1,100 candidates for commencement this fall across the state and is now enrolling for the spring semester. To apply, visit tstc.edu.
– # –