(HARLINGEN) –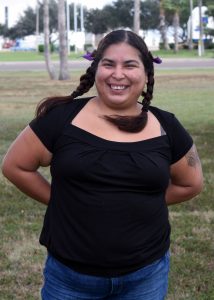 Michelle Gibson is a Biology student at Texas State Technical College. The 29-year-old, single mother expects to earn her associate degree in Summer 2018 after serving nearly five years in the United States Navy as a mechanic.
The Los Fresnos native said she has a passion for the medical field and is already a certified medical assistant and hopes to continue growing at TSTC.
Gibson is also the Treasurer for the Veteran Students Alliance Club and participates in community service events with the club.
What are your plans after graduation?
After I graduate I plan on returning to TSTC to apply for the Surgical Technology program and receive my second associate degree.
What's your dream job?
My dream job is to become a surgical technician and work alongside surgeons in the operating room and maybe someday work in a medical lab doing research on blood samples and diseases.
What has been your greatest accomplishment while at TSTC?
I've always been a really shy person, so my greatest accomplishment so far at TSTC is becoming treasurer of the Veteran Students Alliance Club and making a difference in the community and making lifelong friends who encourage me every day.
What greatest lesson have you learned about yourself or life?
Although I have learned a lot in my 29 years, I feel that with life's unpredictability I am learning new things every day, even as a mother. I just keep an open mind, go with the flow and learn along the way. There are no right answers in life.
Who at TSTC has had the greatest influence on your success?
There are a couple of people who have really made a difference. The first one is TSTC Psychology Instructor Frank Coronado. I suffer from Post-Traumatic Stress Disorder and depression and as a veteran himself he has helped me understand my condition so I can better control it  and succeed in the classroom. Second, is Jose Villegas. He has been my guide from the beginning. He helps me complete all of my benefits paper work and is always there to lend a hand or a listening ear.
What is your advice for future TSTC students?
My advice for future TSTC students is to always keep going and work to better yourself. No matter how hard the journey gets, keep going and don't doubt yourself. Believing in yourself is the first step toward success.