(HARLINGEN) –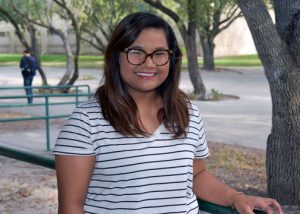 Arelynn England is a Biology student at Texas State Technical College. The McAllen native holds a 3.4 grade-point average and expects to earn her associate degree in Fall 2018.
The 20-year-old also stays busy by working as a student orientation leader, volunteering with the Student Government Association and interning with Texas State Representative Oscar Longoria.
What are your plans after graduation?
After I graduate I plan to return to TSTC for the Dental Hygiene program. I hope to work in the field after that and save money for dental school.
What's your dream job?
My dream job is to become an orthodontist and open a family dental clinic here in the RGV and help the people of my community.
What has been your greatest accomplishment while at TSTC?
My greatest accomplishment so far at TSTC has been receiving the internship opportunity with Representative Longoria. It goes to show that my hard work has not gone unnoticed.
What greatest lesson have you learned about yourself or life?
The greatest lesson I have learned is 'do not quit.' I've closed many doors because I would quit the moment things got hard. But I've learned to take every opportunity as a new adventure and make choices that I can be proud of.
Who at TSTC has had the most influence on your success?
Larissa Moreno, my former supervisor, has influenced my success the most. She makes hard work fun and helped me gain the confidence I need to believe in myself. She has helped me in more ways than she'll ever know and has helped me see I can do more that I think I can.
What is your advice for future TSTC students?
My advice for future TSTC students is to get involved, be purposeful and diligent. Also, be a good student and work hard because it will get you far.