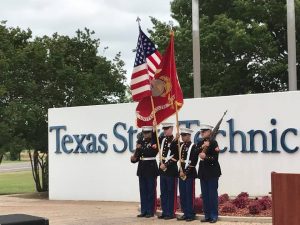 (TEXAS) – Texas State Technical College has received a 2018 Military Friendly Schools Gold designation, marking the third year that TSTC has been selected as a Military Friendly School by Victory Media.
Up from last year's silver designation, the gold status signifies that TSTC has programs that scored within 20 percent of the 10th-ranked institution within that category.
The Military Friendly Schools list is created each year based on extensive research using public data sources for more than 8,800 schools nationwide, input from student veterans, and responses to the proprietary, data-driven Military Friendly Schools survey from participating institutions.
Ratings are determined by combining the institution's survey scores with an assessment of the institution's ability to meet thresholds for student retention, graduation, job placement, loan repayment, persistence (degree advancement or transfer) and loan default rates for all students and, specifically, for student veterans.
TSTC serves over 1,100 veterans and their dependents across its 10 campuses statewide. The college aims to help veterans and service members make the transition from military to civilian life an easy one, and it hosts Veteran Centers at most of its campuses. These centers serve as a one-stop location to help veterans through the process of applying for school, GI benefits and financial aid, as well as registering for classes.
"We are honored to receive this designation because all Americans owe our security and our way of life to the brave women and men who serve in the armed forces to protect us all," said TSTC Chancellor Mike Reeser. "Accordingly, TSTC puts extra effort into creating a college environment that is veteran-friendly. It is the least we could do for these valiant patriots."
Steve Guevara, TSTC's director of Veteran Programs, said the award is a great acknowledgment.
"TSTC is committed to providing excellent service to those that served our country and their families," Guevara said. "The gold award is a great recognition of TSTC's ongoing efforts to support military veterans in achieving their goal in higher education."
Guevara is proud to assist other veterans in the transition.
"Veterans serve and protect our country and our way of life," he said. "We have the privilege to show our gratitude for their service and honor them and their families for their sacrifices. Personally, I'm helping my brothers and sisters in arms. It brings me great joy to see our veterans succeed."
Victory Media, which is not affiliated with or the property of the U.S. Department of Defense or any other federal agency, hopes the list competition encourages schools to offer better programs for veterans.
"Our ability to apply a clear, consistent standard to colleges creates a competitive atmosphere that encourages colleges to invest in programs to provide educational outcomes that are better for veterans," said Victory Media's Chief Product Officer Daniel Nichols.
The 2017-18 Military Friendly Schools list will be published in the December issue of G.I. Jobs magazine and can be found at www.militaryfriendly.com.
For more information on TSTC and its veteran programs, visit tstc.edu/veterans.