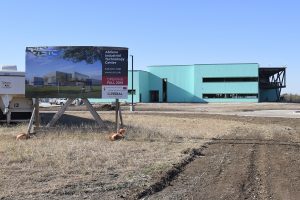 (ABILENE) – Texas State Technical College has received 10 welding machines from Lincoln Electric to jump-start the welding program at its new Abilene campus.
"This support gives our students access to the newest technology out there," said TSTC Interim Provost Rick Denbow. "Our students have the advantage of becoming familiar with industry-standard equipment before they begin working."
Lead TSTC welding instructor Gregory Nicholas said the equipment is highly advanced and will be utilized to its highest potential.
"This support from Lincoln provides our students with the most up-to-date multiprocess welders on the market," Nicholas said. "It gives them every tool needed and available to become the welder that industry needs. These machines will help TSTC ensure that our students are proficient in all welding processes and can pursue a career in the industry."
The Lincoln Electric equipment is from their Power Wave, Power Feed and FlexTec lines.
"Lincoln Electric is pleased to support and advance Texas State Technical College's welding program," said Jason Scales, Lincoln Electric's business manager, education. "By expanding access to state-of-the art welding solutions, training and skills, TSTC graduates are better positioned to build successful, long-term careers in advanced manufacturing."
With the upcoming addition of the welding program at the Abilene campus, TSTC will offer welding at all 10 of its locations. Officials broke ground on Abilene's new campus last April, and classes are set to begin there this fall. The new building, which is being constructed off Loop 322 next to Abilene Regional Airport, will also house Electrical Power & Controls and Industrial Maintenance Technology programs.
Lincoln Electric is the world leader in the design, development and manufacture of arc welding products, robotic arc welding systems, plasma and oxyfuel cutting equipment. Headquartered in Cleveland, Ohio, Lincoln has 63 manufacturing locations, including operations and joint ventures in 23 countries and a worldwide network of distributors and sales offices covering more than 160 countries.
For more information on TSTC, visit tstc.edu.