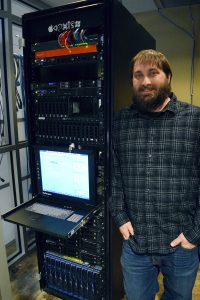 (ABILENE) – Texas State Technical College alumnus Ted Harvey was working as an assistant manager at a dollar store when he decided he needed a life change.
Harvey had always loved working with computers but hadn't thought about making it a career.
"I just loved computers and was really good at working with individual computers, home networking and stuff like that," Harvey said.
After researching career options and colleges, Harvey finally chose TSTC's Computer Networking & Systems Administration program.
"When I came to TSTC, I got to learn about the business side of things and got more in-depth," he said. "That really inspired me to go out and learn more and push myself."
Harvey was unsure of what to expect when he first arrived at the school.
"When I walked in here, I was terrified. I was 30 years old," he said. "But when I had my very first meeting with Jennifer Herrera, she was so welcoming and so friendly. It made me feel very comfortable and relaxed. It got me even more excited about going to college. Every step of the way, my whole time here, I always felt like the staff was extremely friendly and interested in my future."
Harvey now works as a computer technician for the city of Abilene, where he troubleshoots desktops and servers and sets up wireless access points, among other duties.
"It has changed my whole life, coming to TSTC," Harvey said. "Before I went to school, I was absolutely miserable at my job. I felt stuck, like there was no escape. Since coming here, I've been able to move up in my life."
Apart from his full-time job, he also runs his own business, Blue Helix Technology.
"It is absolutely exhausting to do that with a full-time job, but I enjoy it a lot," Harvey said. "I manage small business networks. I do computer security and Wi-Fi for a few small businesses here in town."
Harvey has some advice for those considering the Computer Networking & Systems Administration program: "You get what you put in."
"When you come to the CNS program, you're not going to graduate and immediately be a networking expert," he said. "You'll get a very solid foundation and hands-on learning experience that will allow you to build on that. TSTC gave me the foundation to build on for everything that I do now and everything that I love."
For more information on TSTC's Computer Networking & Systems Administration program, visit tstc.edu.