(HARLINGEN) –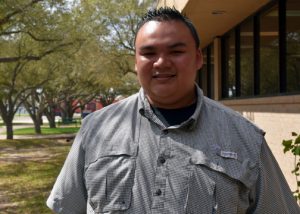 Harlingen native Jesse Lopez is an Education and Training student at Texas State Technical College. He expects to graduate with his associate degree in Spring 2021.
The 19-year-old is also active on campus as a Student Government Association (SGA) Senator for Education and Humanities and will be running for SGA Treasurer in the upcoming election.
When Lopez is not on campus, he can be found teaching music and singing with his church choir.
What are your plans after you graduate?
After I graduate I plan on transferring to Texas A&M – Kingsville through TSTC's University Center and pursue a bachelor's degree in education, specializing in music.
What's your dream job?
My dream job in to become an elementary music teacher here in the Rio Grande Valley. I hope to inspire children to pursue music if that is their passion and to create musicians and artists for our area.
What has been your greatest accomplishment while at TSTC?
My greatest accomplishment so far at TSTC has been becoming a senator of the SGA. It has allowed me to get out of my comfort zone, meet new people and help make a difference.
What greatest lesson have you learned about yourself or life?
The greatest lesson I have learned is to never say no. Always try something new and help people out. You never know what you're going to learn or who you're going to meet.
Who at TSTC has had the most influence on your success?
The people who have had the most influence on my success are the SGA officers: President Isela Rodriguez, Vice President Thalia Gutierrez and Secretary Miguel Zamarripa. Last but not least, is TSTC Student Life Coordinator Belinda Palomino. They are all examples of great leaders and they have showed me what it takes to be one and have helped me grow as a student and person.
What is your advice for future TSTC students?
My advice for future TSTC students is to be outgoing and active on campus. This is important because you need to have fun and enjoy college. It will make all the difference in your college experience.