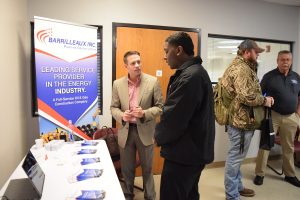 (MARSHALL) – Students at Texas State Technical College walked into the college's annual job fair Tuesday with resumes in hand, hoping to leave with the promise of a job.
More than 30 employers set up at the job fair to meet with, interview and possibly hire students from TSTC's 12 programs offered at the Marshall campus.
Hannah Luce, coordinator of Career Services at TSTC, said the event went well.
"It's probably near the same turnout we usually have," Luce said. "The job fair gives our students a good showcase of the variety of companies that are out there hiring them. It gives them networking opportunities."
Luce said many employers were anxious to set up interviews with the students.
"Tons of students were handing out their resumes and the employers were asking for them, ready to get them in and interviewed," she said.
Dustin Deberry, remote operations project supervisor for Matheson Gas, said the company came looking to fill positions in industrial maintenance and process operations.
"We had come and done some interviews about a month or so ago, and we liked everybody we talked to," Deberry said. "We've had some promising candidates today. We want them to come to the plant that they'd be interviewing for and speak directly with the plant manager and the zone manager."
Joe Razza, regional recruiter in Texas and Louisiana for Crown Lift Trucks, said the company does a lot of work with TSTC.
"I've had an ongoing relationship with the diesel and industrial maintenance programs and the instructors, so a lot of these individuals I've spoken with in the past," Razza said. "Today is more of a networking event, answering any questions they might have. For the most part they've come up pretty prepared with resumes and things like that, so it's been pretty good."
Razza said the quality of individuals the college is producing is one of the many reasons why Crown maintains a great relationship with TSTC.
"We also see the passion and drive of the employees that are training those individuals, and that makes it rewarding for us," he said.
Crown Lift has also offered workshops at TSTC's campuses statewide to help better prepare students for the workforce.
"We're not only offering the soft skills workshops and things like that to programs that pertain to us," Razza said. "We're offering them campus-wide at all the locations, to kind of give back to TSTC. The students are obtaining all of the things that they need to be successful in their career from the campuses. The soft skills give them an edge up on the competition, and we want them to be successful whether they pursue us or somebody else."
TSTC will begin registering students for the summer and fall semesters on Monday, April 2. For more information on the college, visit tstc.edu.