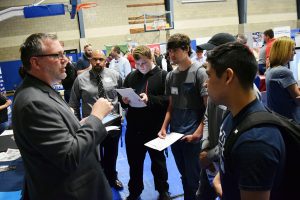 (HUTTO) – More than a dozen Texas State Technical College students from the East Williamson County Higher Education Center made their way to TSTC in Waco Thursday, March 22, for the college's annual Industry Job Fair.
Over 100 employers attended the event looking to meet, interview and possibly hire students from TSTC's programs.
This was the first year that the college's Williamson County campus had bused students to the job fair.
"For years now, it's been an issue of transportation," said TSTC Provost Edgar Padilla. "We're trying to do what we can for our students."
TSTC field development officer Michael Smith echoed those sentiments.
"I heard from several different instructors over the year that either they had to drive them up there or they (students) had to drive on their own, and how it would be neat if we had a bus," Smith said. "I heard that over and over, and so I told Edgar, 'I think we should do a bus this year,' and we started researching the cost."
Ellis & Salazar Automotive & Collision volunteered to sponsor the bus to help the students reach more opportunities.
"We're working with Ellis & Salazar on a different project, so I mentioned it to them and said this would really help us," Smith said.
Smith hopes the students had a positive experience at the event.
"They're getting to meet with these companies and see the full range of services that TSTC offers," he said. "It's not just coming to class and going home. Career Services will be out there to help and answer resume questions, and all the other pieces that go into making sure they're prepared for a job when they leave. Ultimately the goal is for them to leave with a job."
Cyber Security student Jeremiah Southern was well prepared for the event.
"I had my resumes ready and researched the companies that were there to see what positions they had open and learn about their backgrounds," Southern said. "Some of the companies that were there, even though they weren't there specifically looking for what my particular field will be, it just takes asking. In IT and networking, there's always something that could be available. If you don't ask, you'll never know."
Southern enjoyed the event overall and found some promising opportunities to follow up on.
"There were a lot of companies and a lot of students," he said. "It was my first time going to a job fair, and I look forward to going to more. There were some great opportunities with the Civilian Air Force and Aerotek. Aerotek specifically said they need Cisco people, so that was really promising."
TSTC will begin registering students for the summer and fall semesters on Monday, April 2. For more information on the college, visit tstc.edu.