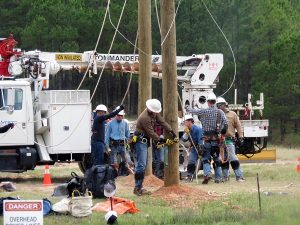 (MARSHALL) – In the wake of last year's Hurricane Maria, Puerto Rico was in shambles. With many residents left without electricity, some of Texas State Technical College's Electrical Lineworker graduates working for Oncor wanted to help restore power to the storm-ravaged island.
TSTC alumni Sawyer Prestridge, a 2015 graduate, and Paul Sheppard, a 2013 graduate, are among many Oncor employees recently sent by the electric service provider to assist in the island's recovery efforts.
Prestridge left for Arecibo, Puerto Rico, in January to help rebuild the electrical grid. He volunteered to help restore the grid because he wanted to help the residents.
"It felt really good," he said. "It was definitely a humbling experience working there. It was hard work."
Sheppard worked in the same city in February.
"I wanted to help out," he said. "I wanted to use the skills I was given to help the people there get the lights on. It's a good deed."
Prestridge said the concrete houses he saw weren't too badly damaged, but power lines were down and wreckage was far and wide.
"There was debris everywhere," he said. "Downed trees were stacked up 70 feet high. We mainly picked up wire and changed out electrical poles."
Sheppard shared the same sentiments.
"It was still pretty bad," Sheppard said. "We were sent to one of the most mountainous areas there, so not everything is accessible by truck. Trees had to be cut, but the vegetation grows back every day because it rains every day. The humidity is 100 percent. It looked like nobody had been there."
Sheppard said the change in environment made the work difficult.
"It was definitely the hardest work I've done in my life," he said. "Here in East Texas, I'm not used to all the mountains and stuff like that. It was definitely a different type of work area. The infrastructure is totally different there than it is here. The weather — it rains every single day. It may rain for 45 minutes and stop for an hour or two and then rain again. It was a totally different experience from working here in East Texas."
TSTC's Electrical Lineworker Statewide Department Chair Eric Carithers said he is very proud of the graduates for volunteering to work on the island.
"The dedication that it takes to not only do line work, but being young in your career and being away from home for weeks to months at a time, is challenging — especially if it's their first time being away from their families like that," Carithers said.
Oncor has sent 80 employees to help restore power to the territory.
TSTC will begin registering students for the summer and fall semesters on Monday, April 2. For more information on TSTC's Electrical Lineworker Technology, visit tstc.edu.