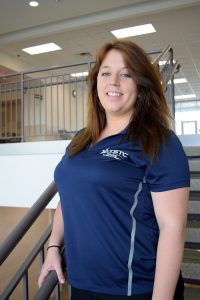 (HUTTO) – Texas State Technical College in Williamson County welcomed a new recruiter last month. Jessica Spencer joined the team mid-March.
Spencer grew up in Hutto and graduated from Hutto High School. After graduating she went straight to work.
"Before here I worked in an office — I love communicating with people," she said. "Before that I was working with kids, and I loved to change people's lives. That's the main thing I enjoy — making an impact on someone's life. Even if it isn't the biggest impact, any kind is amazing."
Before she began at TSTC, Spencer helped her boyfriend, David, enroll in the college's welding program. She appreciates TSTC's hands-on teaching.
"In high school I wasn't the best student at staring at a book all day, so I love that aspect," she said. "I love the opportunity that it's given David to follow his dream, and I'm ready for TSTC to help me follow mine."
She is excited to help influence students to reach their potential.
"I just did my first tour by myself, and it was pretty awesome," she said. "Talking to people and changing people's lives — it's pretty cool."
Melissa Zamora, TSTC's coordinator of Student Recruitment, said she is excited that Jessica has joined the team and is happy that she brings a wealth of local knowledge with her.
"She is a Hutto native, has gone through the local educational system and graduated from Hutto High School," Zamora said. "Residing now in Taylor, Jessica brings knowledge of the Hutto (school) system, as well as an insight into the Taylor district, that can help bridge the communities in order to help get the word out on our Williamson County location."
TSTC Provost Edgar Padilla said campus growth has brought a need to expand the team.
"Our recruitment capacity is growing by leaps and bounds in Williamson County," he said. "We've seen an increased level of metric-driven strategy and enthusiasm for our mission. We welcome Jessica to our team and know she'll play a critical role in the success of our campus. Great things are happening in Hutto."
TSTC prides itself on being "a great place to work" and is currently hiring for positions at its 10 campuses statewide. For information on open positions at TSTC, visit tstc.edu/about/employment.