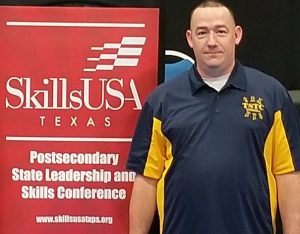 (MARSHALL) – Texas State Technical College Precision Machining student Joshua Davidson will cross the stage Friday, April 27, with a smile, knowing that he already has a job waiting for him.
Davidson, an Air Force veteran, was offered a job as a tool and die maker at Emerson Electric and will begin working after he graduates. Davidson said it is great knowing he does not have to worry about finding employment after graduation.
"It felt awesome knowing that there's a company out there that wants my skill set and wants me to fill the opening that they've got," he said.
TSTC's Career Services office selected Emerson to be a presenter for an Employer Spotlight day at TSTC. Davidson said that was when he first met with the company.
"I sat down and talked with them," he said. "Pretty much the next day, I went down there and did a tour of the Emerson plant. About a month later, I was sent a job offer, and they've basically been waiting on me to finish up school."
Davidson chose to pursue a degree in machining after visiting the school for a tour.
"I saw some stuff that had been done — basically woodworking — on CNC (computer numerical controls) and it piqued my interest," he said. "I kind of wanted to get into a job that I could learn how to do that and be able to do my hobby on the side."
He is also working on a Computer-Aided Drafting and Design degree but said he will have to finish those classes at a later date.
Davidson, president of the Beta Beta Phi chapter of Phi Theta Kappa, said he enjoyed his time at TSTC overall.
"I've had excellent support from my instructors," he said. "It didn't take me too long to get through the program, so that was nice. TSTC is an excellent school; I'd consider it one of the best technical colleges. They will provide you with an excellent education."
Davidson will join 75 other students eligible to walk the stage at TSTC's commencement ceremony in Marshall. The ceremony will begin at 6 p.m. at the Julius S. Scott Sr. Chapel at Wiley College.
TSTC is registering now for the fall semester. The last day to register is Monday, Aug. 20, and classes begin Monday, Aug. 27.
For more information on the college, visit tstc.edu.