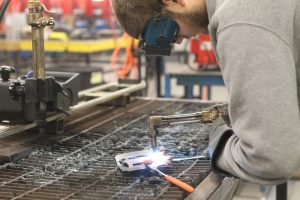 (RED OAK) – Texas State Technical College in North Texas has been designated as an accredited testing facility by the American Welding Society, joining seven other Texas sites approved to certify welders.
The AWS Accredited Test Facility (ATF) program establishes minimum requirements for test facilities, their personnel and equipment to qualify for accreditation to test and qualify welders.
TSTC Welding Technology instructor Donnie Williams said he was approached by the AWS last August.
"We had to be audited by the AWS, and they had to come and see that our facilities and programs are up to par," Williams said. "Our facilities are now accredited to do AWS certifications."
Williams said the accreditation is a substantial achievement for TSTC.
"It's a feather in the hat for TSTC," Williams said. "It's a validation for our program to be recognized by an industry organization, and it puts us on the map as far as the welding industry is concerned."
The school's being an accredited testing facility directly benefits TSTC students.
"It offers them a welder certification that is transferable," Williams said. "These certifications come from the AWS and are entered in a national database."
Though TSTC in North Texas is the first in the college's system to receive this designation, Williams said it can also benefit the college's other nine campuses.
"The ATF services are available to our other campuses also," he said. "We can test remotely, so I can go to other campuses and certify other students who want to participate."
TSTC Provost Marcus Balch said he is proud to see his campus become one of three test facilities in North Texas offering this distinction.
"One cool thing about this certification is that it is recognized worldwide, and, if maintained, the certification is valid for a lifetime," Balch said.
Williams said a grant from the Texas Department of Labor helped to get the facilities accredited.
"We're going to be offering certifications to industry and the general public also," he said. "State organizations can also send their welders to us for certification."
Balch believes the accreditation will offer great opportunities for regional welders.
"This certification program will bring welders from all over the region to our campus," he said. "It will help provide more exposure to our welding program and, in turn, produce more welders that are earning a great wage for the state of Texas."
TSTC is registering now for the fall semester. The last day to register is Monday, Aug. 20, and classes begin Monday, Aug. 27.
For more information on TSTC's welding program, visit tstc.edu.