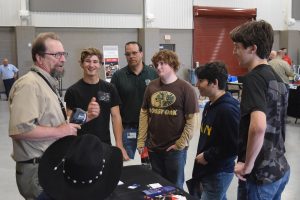 (HUTTO) – Texas State Technical College set up at the Taylor Trades Day Career Fair to meet local students and educate the public on the college's programs.
The event was a collaboration between the Taylor Chamber of Commerce and the Taylor Economic Development Corporation. Area companies represented industries such as plumbing, automotive, energy services and machining.
Chamber President and CEO Tia Stone said they hoped the event would teach area students about technical education opportunities after high school.
"Our goal is to get local kids connected with TSTC and local businesses before they're out of high school, so they can recruit them, so they can train them," Stone said.
Texas State Technical College offers a variety of educational avenues in over 60 technical fields and has 10 campuses across the state. The college's Williamson County campus in Hutto offers pathways in Culinary Arts, Cyber Security, HVAC, Industrial Electrical Systems, Industrial Maintenance, Precision Machining and Welding.
All seven programs available at TSTC's campus in Hutto set up presentation tables to catch the attention of passing students.
"These guys are here today because they have some things that can get kids excited," Stone said. "We've got to spark their imaginations. We've got to get them thinking that these are viable fields. Having people here who are excited about what they do and can show kids what they do really helps. The earlier we can do it, the more they have time to think about it."
With many open jobs in the city, and the TEDC hoping to bring more companies into the area, Stone hopes that local businesses and TSTC can get Taylor residents trained to enter the skilled workforce.
"One of the things we're trying to do is to be sure that we have a well-educated workforce and that we have a workforce that's ready, to get businesses in here," Stone said. "That's our goal. It's about filling the jobs now, but also filling the jobs that are coming. Taylor's a working town."
Regina Carlson, program manager at Taylor Economic Development Corporation, said the city currently has 200 jobs that need to be filled. Carlson said the TECD noticed the shortage as they were trying to fill industrial and manufacturing openings of their own.
"When we were trying to recruit, we realized that we had all these other people looking for these workers also," Carlson said. "We have to have the workforce in order to recruit them here and to take care of them."
Carlson said she wanted to make sure the local students knew that learning a trade is a viable option for them.
Stone echoed Carlson's sentiments.
"That work's not for everybody, but there are people that this is the right thing for," she said. "These jobs that we're highlighting​ ​– most of them have good benefits and most of them have good salaries."
TSTC is registering now for the fall semester. For more information on TSTC, visit tstc.edu.