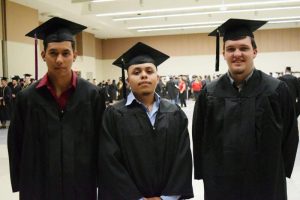 (RED OAK) – Nearly 400 students were eligible to walk the stage at Texas State Technical College's Spring Commencement Ceremony Monday night in Waco. Of those graduates, 19 were North Texas students earning certificates and associate degrees in the college's technical programs.
TSTC Provost Marcus Balch led the ceremony.
"I've probably been to 55 ceremonies over my 18 years, and I've never been center stage, so I'm excited for that opportunity," Balch said. "We have 19 for North Texas, so we'll get to see them cross the stage."
Balch said he's proud of those graduating and the milestone they've reached.
"I think we have some really great graduates, and if it's any indication, most of them already have jobs," he said. "We have some really good graduates who I think are ready to go to work."
Guillermo Herrera earned a certificate in Diesel Equipment Technology but plans to continue his education at TSTC.
"I'm going back to TSTC in North Texas to study welding," Herrera said. "Diesel involves a lot of welding – they kind of go hand in hand, so that's why I chose welding. I'm very excited to be graduating."
Saul Zepeda, also a Diesel Equipment Technology graduate, hopes to move to Odessa to find work.
"There's a company there that works on transmissions," Zepeda said. "My dad is a mechanic, so I got some experience from him. I grew up as a mechanic's helper, so I wanted to do the same thing. It feels pretty good to reach this step."
Jacob Smoot earned his associate degree in Computer Networking & Systems Administration.
"It feels good," he said. "I'm still working on lining up a job, but I think I learned 95 percent of what I'll need to know for the job. I'm sure there's some things only experience will teach you."
TSTC in North Texas graduates earned degrees in all 10 programs offered at the campus — Computer-Aided Drafting & Design, Computer Networking & Systems Administration, Cyber Security, Electrical Power & Controls, HVAC, Industrial Maintenance, Logistics, Precision Machining and Welding.
For more information on TSTC, visit tstc.edu.