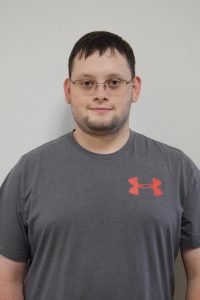 (HUTTO) – When Quinton Hooper walks the stage next Friday at Texas State Technical College's first commencement ceremony in Hutto, he'll be joining a long line of technical workers in his family.
Hooper, an Industrial Maintenance student, previously studied under the Digital Forensics program at the Waco campus but decided to change programs to something a little more familiar.
"Most of my family are mechanics," Hooper said. "It's a little closer to what the rest of the family is doing."
While he enjoyed his time at TSTC in Waco, Hooper enjoys the smaller class sizes in Williamson County.
"Here, there are more one-on-one classes," he said. "You get more time with the teachers."
Industrial Maintenance instructor Lance Antilley said he has admired Hooper's hard work.
"I have known Quinton for the past 16 months," he said. "He is an outstanding student in all respects. Quinton has proven that through hard work, follow-through and teamwork, he can accomplish tasks in a courteous and timely manner."
Currently interviewing for jobs, Hooper hopes to find a position where he can travel with work.
"I'd like traveling, going to different countries," he said. "I hope to get into a company that I'm able to travel around and not stay in one place too long. I'd like to visit Europe."
Hooper, a native of Maxwell, Texas, is one of 20 students eligible to walk the stage at the 6:30 p.m. ceremony on May 11 at the East Williamson County Higher Education Center.
Hooper advises those considering TSTC not to bite off more than they can chew.
"Don't get in over your head," he said. "If you go into a class and you don't know a lot about it, study more in that class."
TSTC's Chancellor, Mike Reeser, will speak at commencement, as well as Robb Misso, president and CEO of Dynamic Manufacturing Solutions in Austin.
TSTC is registering now for the fall semester. The last day to register is Monday, Aug. 20, and classes begin Monday, Aug. 27.
For more information on TSTC, visit tstc.edu.