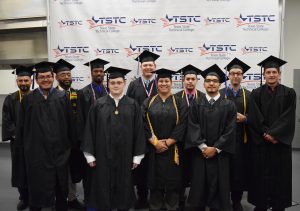 (HUTTO) – Texas State Technical College celebrated its first commencement ceremony in Hutto Friday, May 11. Twelve graduates walked the stage in the presence of their family and friends.
"Today is a celebration of our graduates and recognition of all they have accomplished," TSTC Provost Edgar Padilla said. "Tonight's ceremony acknowledges the completion of study and dedication by our spring graduates and signifies the beginning of their professional careers."
TSTC Chancellor Mike Reeser was the keynote speaker at the ceremony. He urged the students to keep learning.
"Technology is moving constantly," Reeser said. "You picked the best school you can possibly attend in terms of technology, but if you want to be an outstanding employee, if you want to be someone that employers treasure and pay well and promote, here's what you have to know: as technology moves, you must move too."
Reeser believes that the students learned more than just technical know-how from TSTC.
"You have been taught, by these faculty, not just knowledge and skills, but how to learn," Reeser said.
Industrial Electrical Systems graduate Eyosias Gemechu was selected for the Provost Award, an award given to a student who has demonstrated high academic performance, exceptional character and student leadership, and who has influenced their peers to strive for excellence.
"I was so excited and nervous at the same time," Gemechu said. "I wish my mom was able to be here."
Gemechu plans to continue his education with TSTC.
Welding graduate Cesar Carrillo, who is working as a welder for Jay-Reese Contractors, said he was happy to reach this milestone.
"It feels good," he said. "It feels like a weight lifted off my back. I'm being shipped off to Iowa Sunday for work."
TSTC in Williamson County graduates earned degrees in six of the programs offered at the campus — Culinary Arts, Cyber Security, Industrial Electrical Systems, Industrial Maintenance, Precision Machining Technology and Welding.
For more information on TSTC, visit tstc.edu.