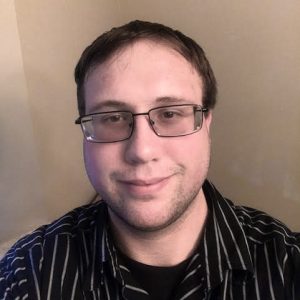 (MARSHALL) – When Scott Hodkinson joined the Texas State Technical College team earlier this month, it was like coming back home.
Hodkinson, a graduate of TSTC's Computer Networking & Systems Administration and Cyber Security programs, began working as a field tech in the Office of Information Technology at the Marshall campus on April 16.
Hodkinson graduated from TSTC in August 2017 but worked as a restaurant manager for the last six years. He chose to go into information technology because it is something he has always been interested in.
"I've always wanted to do IT," Hodkinson said. "I was doing restaurant management to get by until I found something that I really wanted to do. The hours and the stress level at a steady job are so much less than I'm used to — it's amazing."
The main part of Hodkinson's job is keeping the campus' computer network up and running.
"My main duty is to fix anything that breaks as it comes up," he said. "I'm trying to make sure that everyone has what they need to succeed on their end of things."
Hodkinson said he was happy to join the TSTC team.
"This campus feels like home," he said. "Everyone knows everybody. We're all one big family here at the Marshall campus. It just feels comfortable. It really is the people that make TSTC my favorite — my coworkers."
Terrye Newcomb, OIT Manager III, said she is happy that Scott joined the organization.
"Scott is a great asset to the Marshall campus," she said. "He knows the technical field, and he has jumped on board with the rest of the employees. I am glad that he was chosen to be on my team."
TSTC Provost Bart Day also said he was proud to have Scott join the team.
"It's especially great to add another TSTC graduate to our full-time family," Day said. "Scott brought a terrific can-do attitude to the team and has been making a great impact since his first day with us."
So far, Hodkinson's favorite part of the job is the challenges he sees daily.
"I like the challenge of having to come up with something to make things work," he said. "Sometimes I have to try to make something out of nothing, but that's what I like."
TSTC prides itself on being "a great place to work" and offers benefits such as retirement, medical, dental and vision. For information on open positions at TSTC, visit tstc.edu/about/employment.