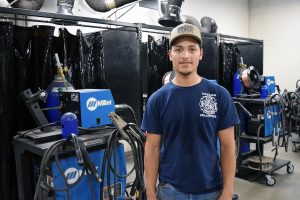 (HUTTO) – After working for a tree-trimming company for three years, Texas State Technical College student David Suarez wasn't quite sure what he wanted as a career, but he knew that wasn't it.
He came across welding by chance at work.
"We have a skid-steer at work. The bucket on it broke, and it needed to be welded," Suarez said. "The boss is the one who usually welds things up, but he wasn't there that day. His son was there, and he was welding it. He looked at me and asked, 'You want to give it a shot?' I said sure. And ever since that moment, I was hooked on it."
The Hutto native and now Taylor resident looked up welding colleges and found that TSTC was right in his backyard.
"I have a couple of friends, probably five or so, that went there, and they loved it," he said. "They're out welding for a living, so I figured I'd sign up and see what it was all about."
So far, he is enjoying his classes.
"All the people in there are super friendly and always willing to help," Suarez said. "They do whatever it takes to make sure we are all in this together and no one is falling behind. As far as the teachers, they're always in a good mood and willing to help you.'"
Suarez has even taken up some welding projects outside of class.
"If I'm not welding at school, I'm at home coming up with something," he said. "I have a buddy who has a 4Runner, and we go off-roading. When you're off-roading, you're bumping into trees and rocks and all sorts of stuff, so he has a bumper that he wants to fit. It has to be welded to the frame of the 4Runner, so I'm going to start that project soon."
In his free time, Suarez is a firefighter with the Taylor Volunteer Fire Department.
"It started about a year ago," he said. "One of my co-workers has been doing it for six or seven years, and he'd been trying to get me to join. You get to experience so much — going through the academy and getting certified through the TEEX of Texas A&M. It's always rewarding to feel like you can give back to the community and feel like you're putting your part in."
When he isn't busy with school, work or volunteering, Suarez likes to spend his time outdoors.
"I'm into fishing and hunting," he said. "Whether I'm searching for whitetails, doves, turkey — you just sit back and enjoy nature. You never know what's going to come out, so it's always a neat experience just having that appreciation for nature and what it has to offer."
Now in his second semester, Suarez isn't yet sure what he wants to do when he graduates.
"Welding can take you all sorts of different ways," he said. "I have a couple of friends doing structural welding; I have a couple of friends doing pipeline welding. There's TIG stainless steel welding. I have a lot more to learn before I feel like I can make a decision on what exactly I want to do with my welding education."
Suarez enjoys TSTC's teaching style and recommends it to those looking for something different.
"In high school I had good grades, but sitting in a classroom wasn't for me," he said. "Being here at TSTC, the majority of the time you're hands-on learning."
TSTC is registering for the fall semester through Monday, Aug. 20. For more information on TSTC and the Welding program, visit tstc.edu.