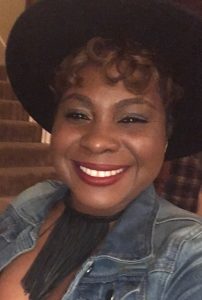 (RED OAK) – Texas State Technical College in North Texas welcomed a new Career Services Coordinator at the end of May.
Fagen Jones, an Army veteran from Alabama, has an associate degree in instrumentation. After realizing her passion for helping people, she later went on to earn a bachelor's degree in Social Sciences and Psychology from Troy University in Dothan, Alabama.
Jones worked in Career Services for Goodwill Industries of Arkansas before moving to Desoto, Texas, and continuing her work with Goodwill in Dallas. She was thrilled to come across the Career Services position at TSTC.
"When I read the job description, I was really excited about it because I was familiar with technical colleges," she said. "I knew how technical school could help others like it helped me. I'm very passionate about things I believe in. Knowing what a technical degree can do for you, it really piqued my interest."
Jones values TSTC's degree offerings and teaching style.
"The programs that TSTC has to offer are what I really like," she said. "You can get a career and grow from that. It's not just the education, it's the hands-on experience that you're getting in the classrooms and can take to your job. Not every organization is set up like that, so it's something that is very valuable."
So far, Jones is focusing on connecting with the students.
"The main and most important thing is to make sure students secure employment prior to graduation," she said. "I'm starting to get engaged with those students, trying to get them into the office to assist them with their resumes. I'm always putting out job leads. I've created a job board here for them. They're coming in, seeing what's there (on the board) and reaching out to me if they have questions about the job postings. That's going really well. Next week, I'm starting to do workshops with the students, so I'm really excited about that."
Jones has been impressed with the atmosphere at TSTC.
"Everybody is really nice," she said. "I haven't been in Texas long, but the time I have, I've never met so many people where the morale is just happy. That's really good for me because I'm a happy person."
She immediately felt welcomed by the Career Services team.
"I was really impressed and blown away by just the Career Services department and how they work as a team," Jones said. "When I went to the Waco campus, they all walked around with me and introduced me. It wasn't just one person, it was a team. It spoke volumes when the entire team got together."
TSTC prides itself on being "a great place to work" and is currently hiring for positions at its 10 campuses statewide. For information on open positions at TSTC, visit tstc.edu/about/employment.