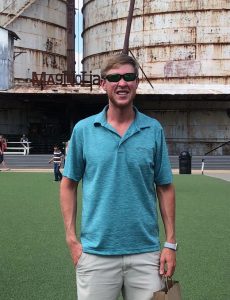 (MARSHALL) – For one Longview native who enjoys getting to know people, a satisfying job was not far from home.
Clayton Brooks now brings his people skills and enthusiasm to Texas State Technical College in Marshall, where he joined the recruitment team on June 1.
He is excited to be at TSTC, and he hit the ground running on his first day with a large tour group.
"The tours were really good for me. I was learning as the students were learning," he said. "I feel like having that tour on the first day helped me get a jump-start in the role."
So far he is enjoying getting to connect with students.
"I love getting to meet the students and sharing information with them and sharing my background, getting personal with them," Brooks said. "I like helping them find something that they want to do in their life."
Brooks attended Hallsville High School in Longview and graduated with a bachelor's degree in accounting from Louisiana Tech University in 2017.
He enjoys the different perspective TSTC offers potential students.
"Everybody has this one viewpoint where you have to go to the four-year school," Brooks said. "We're offering something completely different. And because of that, TSTC can help so many more students."
Coordinator of student recruitment Patty Lopez said she is happy to have filled her team.
"We've expanded our student recruitment team, and we are thrilled at the addition of Clayton to our TSTC family," she said. "Growing our team has been one of the greatest things to happen this year, and I am excited for the upcoming fall recruiting season."
TSTC prides itself on being "a great place to work" and is currently hiring for positions at its 10 campuses statewide. For information on open positions at TSTC, visit tstc.edu/about/employment.