(FORT BEND) – Texas State Technical College Diesel Equipment Technology student Troy Ketchum will be graduating in the coming months, but not before travelling to Louisville, Kentucky as the first student from TSTC in Fort Bend County to compete at the 54th annual SkillsUSA National Leadership and Skills Conference.
"You can feel the excitement around campus building up about my travel to the upcoming event," said the 30-year-old. "I hope I can make everyone proud."
At the end of the month, the Rosenberg native will compete against thousands of other students from across the United States in hopes of bringing home a gold medal in his category: Job Skills Presentation.
SkillsUSA is a professional organization teaching technical, academic and employability skills that help high school and college students pursue successful careers. Members build these skills through student-led team meetings, hands-on competitions, leadership conferences and other activities.
TSTC in Fort Bend County Provost Randy Wooten said that the entire college benefits from having students like Ketchum compete in these events.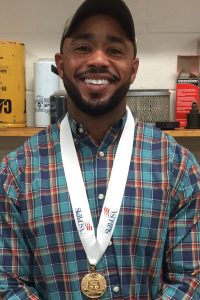 "The student body knows that they are being represented at these events and they are big supporters of Troy," said Wooten. "All of us here are thrilled by having our first competitor at the SkillsUSA national level."
Wooten also said that he has been involved in Ketchum's dry-run presentations and practices since before the state competition and he knew immediately that he would be hard to beat.
"It's obvious that Troy has what it takes to win. He's a strong contender," said Wooten. "And having our college represented in Kentucky means that even though we're the newest and one of the smallest right now, we can run with the big dogs."
The United States Navy veteran has been preparing his presentation, "The Importance of Proper Tread Depth and Safety of Truck Tires," and his delivery non-stop for this competition.
Ketchum has taken two days out of the week since the beginning of the year to present in front of students, faculty and staff at the campus.
"I practice in front of anyone who is willing to listen," said Ketchum. "And I welcome all feedback."
Spencer Paige, lead instructor for Diesel Equipment Technology and SkillsUSA advisor, said Ketchum has told him that he even practices while driving, at work and at home in front his brother or a mirror.
"He has put in so much work and effort into SkillsUSA. We are proud him," said Paige. "We are positive that he will do well and represent TSTC positively.
Paige added, "The fact that this is our campus' first SkillsUSA chapter and we're headed to nationals is remarkable and we hope that more students join us next year. This is a great organization that teaches lessons and skills that stay with you forever."
Ketchum, who is also looking forward to graduating in August said that the skills he has learned in class and by competing in SkillsUSA have prepared him for a job in his field and for what he calls a leap from waiting tables full time.
"As soon as I return from SkillsUSA I'll start on job applications. I feel so accomplished and excited entering this next phase in my life," he said. "But first, I want to bring home the gold for TSTC and Fort Bend County."
Ketchum and at least 50 other TSTC students statewide will be competing at the week-long event, June 25-29.