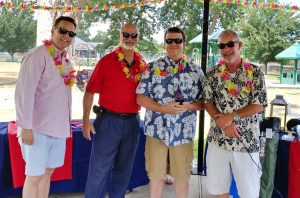 (MARSHALL) – Employees at Texas State Technical College in Marshall celebrated Employee Appreciation Day on June 15, a day that included fun for employees and awards for employees of the year.
Josh Stampley, Computer-Aided Drafting & Design instructor, was chosen as faculty member of the year for the Marshall campus.
Stampley, a Marshall resident and graduate of Kilgore College, began working at TSTC in September 2016 after working in the industry for nearly 20 years.
"I was doing all the drafting and eventually became the general manager," Stampley said. "I had daily duties of drafting, running machines, welding — whatever I needed to do to keep it running."
Employees of the campus submitted nominations for the award, and the winner was chosen by vote. Stampley's fellow employees had great things to say about him, with one teammate writing, "Josh is an exceptional team player. He is always willing to help others without any hesitation. Additionally, Josh has a very cheerful disposition and always exemplifies professionalism."
Stampley said he was happy to receive the award.
"It's a very neat feeling to get that since I don't have a whole lot of years in education. It's been a blast here. The people are great, and it was a good experience. I enjoy every bit of it."
He is glad his co-workers notice his enjoyment for the job.
"I hope that everyone sees that I try and do a good job," he said. "I really like what I do and try hard."
He takes pride in knowing he is getting his students ready for work.
"My favorite thing, besides the help of the faculty and everyone being there for you, is the students and how you can turn them, and mold them, into a 'product,'" he said. "I dealt with metal and steel products in industry; now I'm dealing with a human product. I can mold (students) into the best drafters that I can and put them in the workforce. I thoroughly enjoy that."
Knowing that his former students enjoy their jobs keeps him motivated.
"I keep in contact with several students that have graduated and moved on into jobs," he said. "They enjoy their jobs. To see that they like doing what they're doing really helps me to stay focused and keep toward my goal of trying to educate these students and get them out there and working."
TSTC prides itself on being "a great place to work" and is currently hiring for positions at its 10 campuses statewide. For information on open positions at TSTC, visit tstc.edu/about/employment.