(HARLINGEN) – It was in 1996 when Michael Muniz first stepped foot in Texas State Technical College as a computer maintenance major, but after some soul-searching, Muniz grew up to be a pharmacist. He will share his wisdom and experiences with TSTC graduates next Friday as the Summer 2018 commencement speaker.
"I was surprised when I received the invitation to be speaker," he said. "I never even thought this was something I would be considered for, and now that the initial shock is over, I'm excited and honored."
Muniz was selected as commencement speaker because of his alumni status and the success he has found since he graduated from the college — even though his life took him in a different direction from his initial plan.
At age 13, Muniz started building computers, but when he enrolled in computer maintenance classes at TSTC, the subject was no longer exciting to him. So he changed majors and chose chemical technology, but it still did not give him joy.
"I could not find my passion, so I concentrated on working instead," said Muniz. "I needed some time, but it took longer than expected to return to school."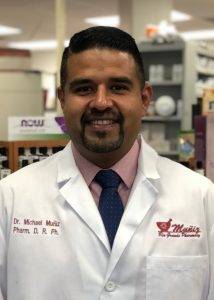 After six years, a job at FedEx and working as a medical billing clerk for a local surgeon, Muniz decided to pursue surgical technology at TSTC, earning a certificate in 2004.
"After observing the doctor I worked for and sitting in on surgeries, I knew surgical technology was for me," said Muniz. "It was exciting, but I wasn't done — I wanted to be the surgeon."
Of course, for Muniz, life happened. And with a wife and three children, he knew medical school was not an option.
So after tutoring students from the pre-pharmacy program at the University of Texas at Brownsville (now University of Texas Rio Grande Valley), where he also graduated with a bachelor's degree in biology and chemistry, he decided to pursue pharmacy school.
He earned a Doctor of Pharmacy degree from Texas A&M University-Kingsville in 2012 and completed a metabolic and nutritional medicine fellowship through George Washington University.
"I am no different than most of the students out there right now," he said. "I was undecided, and it took me time to find what I wanted to do. But TSTC helped me find my passion and set my foundation."
Muniz added, "It's been a good ride. I've had wonderful experiences, great mentors, and the Lord has guided me. For me it's all about helping people, and my profession allows me to do that in different ways."
Muniz, who also has been a guest speaker for surgical technology pinning ceremonies, said he hopes to pass a message of hope and encouragement that will invigorate TSTC graduates and current students to keep pursuing their goals and dreams.
"It doesn't matter where you go to school; it's what you make of your situation," Muniz said. "TSTC provides a quality education that leads to great careers. Plus, for many, it's affordable and close to home, and I hope many of the college's graduates realize how lucky they are to be part of such a wonderful institution."
While Muniz still practices as a pharmacist at his uncle's pharmacy, Muniz Rio Grande Pharmacy in Harlingen, he is also opening his own shop: Krave Market, a one-stop health-food market for people living on ketogenic, paleo, gluten-free or Whole30 diets.
"This is an exciting time for me. I get to serve the community I grew up in by helping them stay healthy and fuel their body through nutrition — all thanks to the education and experiences I had at TSTC and thereafter."
Muniz said he hopes to continue serving TSTC students through guest lectures and speaking engagements.