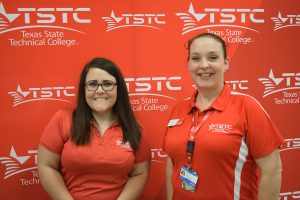 (HUTTO) – Texas State Technical College recently welcomed two new student recruiters at its Williamson County campus.
MaKenna Honea, of Georgetown, and Brittany Hoke, of Pflugerville, joined the TSTC team at the beginning of June.
Before joining TSTC, Honea worked in the food and bar industry for four years.
"I wanted to find somewhere to grow professionally and start a career," she said. "I wanted to work somewhere I'd be held to higher standards and have more responsibilities."
She relishes her new role as a recruiter.
"It's challenging, but it's rewarding," Honea said. "Every day is something different, which is fun."
While Honea enjoys the team she works with, she is happy to be helping local students map out their futures.
"It's cool that I get to be somebody I wish I would've met in high school, reaching out to kids," she said. "If I would have had a recruiter, things probably could have been really different for me."
Hoke enjoys that aspect of the job as well.
"I like getting to help students figure things out that I didn't figure out when I was younger," she said. "Getting to help introduce kids to TSTC is pretty awesome because it is such an affordable education."
Before coming to TSTC, Hoke worked with the Texas secretary of state's office as an employee of Registered Agent Solutions Inc. and was also a child support officer. She was excited to take on her role at TSTC.
"It was a completely different opportunity than anything else I had seen," she said. "The pride of the staff is really eye-opening."
Both women stand behind the school's mission — to place more Texans in great-paying jobs.
"We are all about students," Honea said. "We're not just about numbers; we're about the actual people."
Hoke shared those sentiments.
"TSTC is something I can stand behind," Hoke said. "It's a good message, a good education and a good value."
Coordinator of Recruitment Melissa Morman said she is happy to have finally completed her team of recruiters.
"Having Brittany and MaKenna join the student recruitment team has really been the fuel this department has needed to have more of a presence in the surrounding areas," she said. "With Pflugerville and Georgetown natives on board, it gives us the insight to share our mission of placing more Texans along with spreading the TSTC message."
TSTC prides itself on being "a great place to work" and is currently hiring for positions at its 10 campuses statewide. For information on open positions at TSTC, visit tstc.edu/about/employment.