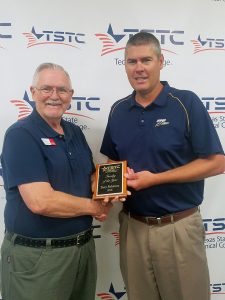 (RED OAK) – Employees at Texas State Technical College celebrated Employee Appreciation Day in June, a day that included fun for employees and awards for employees of the year.

HVAC Instructor Terry Robinson was chosen as faculty member of the year.

Robinson, a native of Clute, Texas, who has been teaching at TSTC for two years, said he was humbled to receive the honor from his peers.

"I was gratified to get this recognition," he said. "I think they've seen my dedication and the amount of work I put into helping build the HVAC department. When I came here, they had just moved all the equipment from another location, so I had to not only start building stuff to teach with, but I had to build the lab. I think everyone was well-pleased with the effort I put into it."

Robinson was working as a service manager when he discovered a passion for teaching.

"I enjoyed teaching my technicians and installers how to do things, so I knew that teaching was going to be something I would want to do at some point," he said. "In 1992 I started teaching, and I've been teaching ever since. I've also taught at Tarrant County College, Fort Worth Independent Schools' night adult program and at Cedar Valley College."

In his teaching style, Robinson swears by his motto: "Those that can, teach passionately."

"That's the way I try to approach my teaching. I enjoy communicating with my students and being creative," he said.

He enjoys showing students the significance of TSTC.

"I've seen all types of educational systems — private, proprietary, trade school, junior college — and I like TSTC because I think we're the best educational value a student can have," Robinson said. "It's just such an incredible value for students at a relatively low price."

Robinson and his wife, a former elementary school teacher, share a passion for education.

"My wife was there the day that I got the award, and it just totally surprised her," Robinson said. "She had just retired after 41 years of teaching elementary in public schools. In the last 15 years or so, she was a talented and gifted teacher. I always told her, 'Of course you teach talented and gifted — you live with me!'"

TSTC prides itself on being "a great place to work" and is currently hiring for positions at its 10 campuses statewide. For information on open positions at TSTC, visit tstc.edu/about/employment.