(HARLINGEN) – The last time Texas State Technical College featured student Sylvia Cleary she was studying biology at TSTC with two of her children and waiting for the inaugural Registered Nursing courses to start.
Now one year later she is part of the first graduating cohort of the program and its first valedictorian with a perfect 4.0 GPA.
Last night, the 50-year-old and 29 of her classmates earned their associate degrees during TSTC's Commencement Ceremonies at the Harlingen Municipal Auditorium, joining the nearly 300 other students who earned a certificate or associate degree from the college.
"It's still so surreal. I can't believe that I can check this off my bucket list," said Cleary. "My personal goal was to become a registered nurse by the time I turned 50. And here I am."
The Rio Hondo native, who worked two decades as a licensed vocational nurse before returning to school, said she thought being accepted into the program was a long shot, especially at her age.
"It was scary returning to school and being the oldest in all of my classes," said Cleary. "But I had a goal and wanted to prove to myself and my children that success is possible at any age."
So in 2015, Cleary quit her job and devoted 100 percent of her time to school.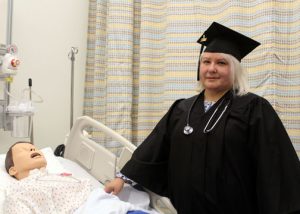 And although her family was supportive of her decision and desire to apply to TSTC's first registered nursing program, she still kept the application process a secret.
"I secretly applied last year in case I didn't get in. I didn't want to have to disappoint anyone," she said. "But fortunately I was one of 30 students to get accepted. It was a competitive bunch."
Throughout the program, graduating was a distant and sometimes impossible goal for Cleary who struggled and was close to giving up on several occasions.
"This was a huge sacrifice, like for many, for my family and me," she said. "And things got tough. At times I was torn between my two loves: family and nursing."
Cleary is a mother of four and also her husband's full-time caregiver. He is a decorated army veteran who earned a purple heart for his service, but suffers from post-traumatic stress disorder.
"I didn't want to falter as a wife or a mother, so I pushed myself at home and at school and it eventually takes a toll," she said. "Most of the time I did my homework while my 15-year-old did his just so we could spend time together."
Cleary said she credits the support and care she received from her instructors in the program for her will to continue pushing forward.
Shirley Byrd, Registered Nursing program director, said she is proud of Cleary and all she has accomplished in the past few years and months.
"She is an inspiration to me and everyone in our program," said Byrd. "It takes a lot to come back to school after being away for so long, but she really devoted herself and made it through."
Byrd added, "She was one of our best students and I can't wait to see her succeed like I know she will. She is definitely going to be a leader in the nursing profession."
Clearly has a few ideas of where she wants to work now that she has graduated, but is waiting to pass her National Council Licensure Examination, which she will take in the next few days.
Her journey with school is also not stopping with TSTC. She hopes to pursue her bachelor's degree in nursing and eventually a master's degree so she can return to TSTC as a nursing instructor.
"It is my family that keeps me going. Everything I do, I do for them," said Cleary. "My son John who is legally blind has overcome so much and is my biggest inspiration. If he can do it, so can I."
Her son John is studying Education and Training at TSTC, and her daughter Logan who also received her associate degree in Biology from TSTC and has recently been accepted to medical school at the island of Antigua, were last featured with Cleary.
Cleary will officially be sworn into the nursing profession on August 4, during TSTC's Registered Nursing Pinning Ceremony at the TSTC Cultural Arts Center.
For more information on TSTC's Registered Nursing program, visit tstc.edu.