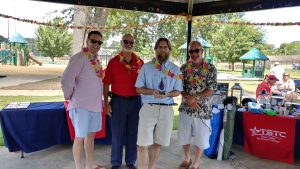 (MARSHALL) – Employees at Texas State Technical College celebrated Employee Appreciation Day in June, a day that included fun for employees and awards for employees of the year.
Student Success Coach Jason Beach was chosen as staff member of the year.
He was happy to receive the award.
"I felt truly appreciated and was reminded immediately of the many administrators, staff and faculty for whom I have sincere gratitude," Beach said. "These women and men have taught me a lot and they continue to guide me today."
Beach, a Longview native who lives in Gilmer, has worked for TSTC for 14 years. He has had titles such as System Analyst II for Institutional Effectiveness, Research and Planning and also provided employees support for TSTC's Colleague system.
Employees of the campus submitted nominations for the award, and the final winner was chosen by a vote.
Employees had inspiring comments about Beach, with one teammate writing, "Jason works hard to help every student. There is hardly any time in the day that he is not working with students. He is here at TSTC early and works late many evenings. He is a great team member that will assist other staff when they need help."
Another comment reads, "Mr. Beach is a testament to being a servant to our students and to his coworkers. He has not only accepted a role change but has made the transition with honor and excitement. Mr. Beach takes a very active role in the success of our students along with the success of our college. He continually goes the extra mile even to the extent of taking registration load off the shoulders of our lead instructors."
Beach's favorite part of his job is knowing he helped make a difference in students' lives.
"Hearing students share where they are going to work on Monday after graduation, getting to see caring faculty and staff provide support to those who are learning, and knowing I'm a part of something that changes the lives of people from all walks of life in the surrounding communities, region and state," he said. "That's my favorite thing about TSTC."
TSTC prides itself on being "a great place to work" and is currently hiring for positions at its 10 campuses statewide.
For information on open positions at TSTC, visit tstc.edu/about/employment.