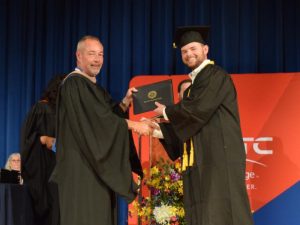 (MARSHALL) – Texas State Technical College held its summer commencement ceremony Friday evening in Marshall. More than 40 graduates walked the stage in the presence of their family and friends.
TSTC Provost Bart Day said the ceremony not only signifies an end for the graduates, but also a beginning.
"Tonight represents an end, in that each of you graduating this evening has set and reached a goal and readied yourself for the challenges of the workforce," Day told the graduates. "But tonight's celebration also represents a beginning because you've made the transition from TSTC student to TSTC graduate."
Garrett Bradshaw, a Process Operations student, was one of the night's honor graduates. Bradshaw is completing an extended internship with Eastman Chemical Company in Longview. He began his internship as a materials handling operator in May.
"I flow product from the storage tanks to rail cars and trailers for shipping," Bradshaw said. "That can involve using pumps, process valves. I collect samples and have analyses run on them. For shipping, paperwork is involved. All things to get the product to the customer."
The Longview resident is graduating from TSTC with a 4.0 GPA.. His advice for incoming and current students is that "you get what you put in."
"You're going to have to do work," Bradshaw said. "If you're willing to put in the work, you're going to get results."
David Golden, Human Resources manager at Norbord Inc. of Jefferson, spoke at the ceremony. He reminded graduates that they control their own journeys.
"You must plot and steer your course," he said, "because you are ultimately in command of where your ship goes. You'll get lots of navigation advice from other captains, but you must steer your own ship."
TSTC in Marshall graduates earned degrees in all 12 of the programs offered at the campus — Business Management Technology, Computer-Aided Drafting and Design, Computer Networking and Systems Administration, Cyber Security, Diesel Equipment Technology, Electrical Lineworker Technology, Industrial Controls Technology, Industrial Maintenance, Precision Machining Technology, Process Operations, Software Development and Welding.
Fall classes begin Monday, Aug. 27. For more information on the college, visit tstc.edu.