(FORT BEND) – Grant Siebrecht knew he wanted to become a diesel mechanic, but with pressure from his family to attend a four-year university he thought his dream was impossible, until Texas State Technical College opened up in his community.
"TSTC had great timing," said Siebrecht. "It had everything I was looking for in a college and because of it, I am now doing what I love."
The Needville native was a new high school graduate in 2016, the same year TSTC in Fort Bend County opened its doors, and much to his surprise, Diesel Equipment Technology was an offered technical program.
"I went through some disapproval from some family members because it was a technical school," said Siebrecht. "But I knew a four-year degree wasn't for me. I needed to work with my hands and this place had it all."
With support from his grandfather from the get-go, Siebrecht received emotional and financial support from him, with the rest of the family following suit when they realized how happy and how much Siebrecht was achieving.
"I used to watch my dad work on cars and trucks as a hobby. It was fascinating and I knew that's what I wanted to do when I grew up," he said. "And without the support from my grandfather and family, I wouldn't be where I am today."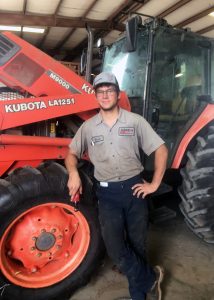 In fact, Siebrecht loves mechanics so much he took a part-time job while in high school at a local mechanic shop, the same place his family would take their car when it needed repairs.
"This was a great experience for me as a high school student. It laid out my foundation in the industry," he said. "And attending TSTC just took it to another level for me."
The 21-year-old was among the program's first cohort to graduate in 2017. And with honors, a certificate in Diesel Equipment Technology, a 3.7 grade-point average and a job offer in hand, Siebrecht was ready to face the world.
"TSTC was a great place of learning for me. All of the hands-on training and knowledgeable faculty made my experience there worth my while," said Siebrecht. "My classmates and I learned so much and the student life was great. Everyone was so nice and welcoming."
Siebrecht credits TSTC Diesel Equipment Technology Instructor Spencer Paige for much of his success because of his knowledge, patience and experience.
"Spencer was great. With his teaching, training and letter of recommendation, I got a job before I even graduated. Not many people can say that about their college," he said.
Siebrecht started his career at Hlavinka Equipment Company in Rosenberg as a diesel technician and has now been there for a year and half.
"I work on off-road equipment and tractors, have a steady paycheck and benefits," he said. "What more could a guy ask for?"
Hlavinka Equipment Service Manager Chris Hallman said he knew from the moment he met Siebrecht that he was a great hire.
"I could tell that this was a young man who wanted this position and who actually had a passion to work in this industry. This is what set him apart from other candidates," said Hallman. "And of course knowing that he received his training at TSTC was an added plus."
Hallman added, "He is a solid worker, not afraid to get his hands dirty and get the job done and has a concern for safety. He is definitely a great asset to our company."
Siebrecht said he will be visiting TSTC again soon because he plans on beginning the path toward an associate degree in Spring 2019 because he has bigger dreams he is working toward.
"I hope to someday own a diesel shop and work on diesel truck performance and heavy equipment," said Siebrecht. "I'm a turn-the-wrench type of guy and I have to continue my education and getting experience to make this happen."
Diesel Equipment Technology is offered at TSTC's Fort Bend County, Marshall, North Texas, Sweetwater and Waco campuses.
For more information Diesel Equipment Technology, visit tstc.edu/programs/DieselEquipmentTechnology.