(HARLINGEN) – As a child, Harlingen native Hunter Warner would help his father and friends work on cars and trucks.
So wasting no time at all, when he was faced with figuring out his future after high school he enrolled in the Diesel Equipment Technology program at Texas State Technical College in Fort Bend County.
His only challenge – having to move away from home for the first time.
And although there were other diesel programs in the Valley, the now 20-year-old knew TSTC was the right fit for him because of his financial situation, it was a two-year program versus four-year and it was a brand new campus.
"I had always heard about TSTC and it always came highly recommended by teachers and friends," said Warner. "So when I heard about the new campus in Rosenberg and the new diesel program, I jumped on it. But moving away is never easy."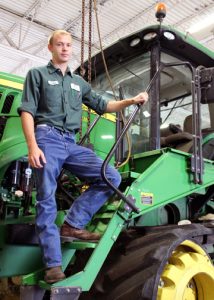 Like with any move, there were expenses to cover and for Warner who was a college student, there was also tuition, books and supplies.
Fortunately, Warner received the TSTC Texan Success Scholarship and was able to transfer his sales representative position at Discount Tire to the Rosenberg location.
"Although moving away was hard, it was overall a great experience and way of growing personally and professionally," said Warner. "The training I received was invaluable. It laid my foundation."
Warner said he is a hands-on learner, so the majority of class time spent at the TSTC diesel lab working on assignments and projects with equipment actually used in industry helped him succeed.
"School is not my forte. I learn by doing, not reading," said Warner. "And although I did consider other colleges, TSTC stood out because of its hands-on learning."
Before Warner walked across the commencement stage in December 2017 to receive his certificate in Diesel Equipment Technology, he had a job waiting for him with Ag-Pro Companies in Harlingen.
"It was such a relief knowing I had a job waiting for me. Although, I was scared to take the plunge and leave my job at Discount Tire; I was comfortable," he said. "But my family and friends encouraged me and told me not to let my education go to waste because of my fear."
So now Warner is back home working as a service technician at Ag-Pro on heavy equipment such as tractors. He will be celebrating his one-year anniversary in a couple of months.
Ag-Pro Service Manager and Warner's direct supervisor Christie Hill said it was his skills, know-how and his will to take initiative that caught her attention.
"I knew he would be a great asset to our team," said Hill. "He is self-motivated, not afraid to work on something new and gets along great with others."
Hill said he started out in the Lawn and Garden department and quickly got promoted to the heavy equipment side of the house.
"His dream is to become a field technician and have his own truck," she said. I have no doubt that he will get there sooner than later. He works hard and has ambition."
In fact, Warner will be attending a week-long session at John Deere School getting further training on electrics and hydraulics.
Warner describes his job more as a hobby than actual work because he loves it so much, and he credits TSTC's Placement Officer Judy Cox and his diesel program instructors for helping him open this chapter.
"I want thank them for their tireless efforts in helping us students get a job," said Warner. "Because of them I now have the dream of opening up my own diesel mechanics shop. And with what I learned at TSTC and the experience I'm gaining at Ag-Pro, I know that it can become reality."
"And it feels great to be back home," he added.
Diesel Technology is offered at TSTC's Fort Bend County, Marshall, North Texas, Sweetwater and Waco campuses. For more information on Diesel Equipment Technology, visit tstc.edu/programs/DieselEquipmentTechnology.