(HARLINGEN) – The Workforce Development and Continuing Education department at Texas State Technical College, in partnership with Valley Baptist Medical Center in Harlingen, recently received a Skills Development Fund grant for customized job training.
The check, in the amount of $301,238, was presented by the Texas Workforce Commission (TWC) during a ceremony hosted at TSTC's Cultural Arts Center this week.
The training provided by this grant is already in session and will last one year.
TSTC Workforce Development Executive Director Isidro Ramos said it is an honor to partner with TWC and industry to provide technical skills training.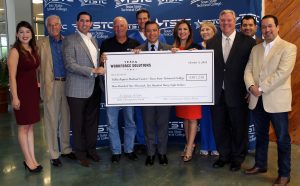 "TSTC plays a vital role in ensuring that our local communities have a skilled workforce so that we may all grow and prosper," said Ramos. "This grant makes it possible for employees to stay current in their specialty, increase career mobility and salary, and service our area with the best health care possible."
The grant provides customized job training for 155 Valley Baptist Medical Center employees such as certified nursing assistants, registered nurses and nurse managers.
The training will focus on health care and social assistance topics, including personal leadership, quality management, trauma care, pediatric care and nurse's aide skills.
Valley Baptist Chief Nursing Officer Steven Hill calls this grant a blessing to his staff and the community they serve.
"We are excited to have received the funds that will help us train our frontline staff," said Hill. "TSTC's training is invaluable and, although classes have only begun, we can already see how it's benefiting our staff and our department. We will reap the benefits of this grant for years to come."
Additionally, Valley Baptist employees who successfully complete the trauma and pediatric care after resuscitation, trauma nursing core course and emergency pediatric training will receive professional board certifications.
"These additional certifications not only give our health care professionals an enhanced skill set, but also give our community a higher level of care," said Hill.
Valley Baptist Medical Center is the only level-two trauma facility south of San Antonio. It already partners with TSTC's Allied Health division, serving as a practicum site for the college's vocational nursing and registered nursing students.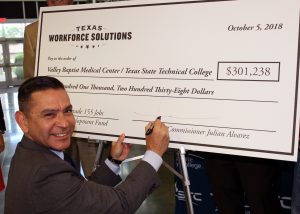 "The longtime partnership we have with Valley Baptist is tremendous," said TSTC Provost Cledia Hernandez. "It is a privilege to be able to work closely with them in this and other endeavors. The support we have for each other benefits our campus, our students and our community."
TWC Commissioner Representing Labor Julian Alvarez said the economic impact these types of grants have on the state is large.
"This particular grant has a $307,000 economic impact," he said. "And because of training like this, our unemployment rate is decreasing and partnerships are growing because we all understand what it takes to improve our workforce."
"I want to let everyone know that the stars are aligning for the South Texas region because of the support and representation you have in Austin. And TSTC, we thank you for always providing innovative training and understanding industry needs," Alvarez added.
For more information on training provided by TSTC's Workforce Development and Continuing Education, call 956-364-4590 or visit tstc.edu/continuingeducation.