(HARLINGEN) – Patrick Zoerner has returned to where it all started for him and he's ready to take Wind Energy Technology at Texas State Technical College to the next level as the program's newest lead instructor.
"It feels great to be back and an honor to be working with those I looked up to for a long time," said Zoerner. "I went from student to colleague."
Zoerner grew up in Harlingen with his family, but at 15 his life spiraled out of control with the sudden death of his father.
"I got into some trouble. Got kicked out of high school," he said. "It took me awhile to get back on my feet."
Eventually in 1994, Zoerner enrolled at Keys Academy in Harlingen to complete his GED. Still not sure what he wanted to do with his life, he enrolled in the U.S. Military at the age of 17.
The now 40-year-old served 15 years in the military as an Army sergeant, and deployed for one year in Afghanistan.
This was Zoerner's way of honoring his father who had also served in the U.S. military."This was my way of not only honoring him, but doing something with my life," he said. "I knew the Army would teach me lessons and discipline."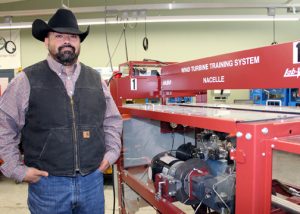 After being medically discharged, Zoerner continued to move forward and enrolled at TSTC.
Zoerner worked as a corrections officer full-time while pursuing an associate degree in Biomedical Equipment Technology. He graduated from the program in 2012.
"At the time this was the only program that I could schedule around work," said Zoerner. "But then I found Wind Energy. And it just clicked."
Instead of working in the biomedical equipment field, Zoerner decided to stay at TSTC and pursue a second associate degree, which he earned recently in August 2018, in Wind Energy Technology.
Zoerner said it took longer to earn his degree in Wind Energy Technology because after receiving his certificate in the program, he was hired by Duke Energy in Lyford.
"Wind Energy Technology opened doors of opportunity for me," he said. "It prepared me for the industry and what to expect and led me back to TSTC."
Zoerner also credits TSTC's Veterans Center and student support staff for his success.
"Steve (TSTC Veterans Center Director) was my number one help when I returned from the military," he said. "He helped me understand all of my benefits and with completing VA paperwork. He makes things easy for all veterans. I give him high praise because he does a lot for us."
Zoerner added that he frustrates easily when he's given the run around or when his questions can't be answered.
"This was the one thing I feared about returning to school; it almost stopped me," he said. "But when I saw how helpful and how concerned the TSTC staff was regarding my success, I knew I had made the right choice."
Before returning to TSTC, Zoerner worked for Duke Energy as a wind turbine technician for five years, he said gaining experience and knowledge he can now share with his students.
"I want to bring a different culture to our program," he said. "I want to be a positive influence, boost morale and surpass their expectations of our program."
"My goal is to create troubleshooters and critical thinkers who are an asset to any team they join in our industry," he added. "Our graduates are going to be so competent and knowledgeable that we'll be able to place them in industry, no problem, and they'll be able to do good for themselves."
In Wind Energy Technology, students learn to operate machinery they find in the field, plan workflow for turbine construction and maintenance and create machinery and equipment layouts which qualifies them to operate and maintain the systems that make wind turbines function.
With a certificate and associate degree path to follow, students can gain employment as wind turbine service technicians, project managers, engineers and operations managers.
"All in all, it feels great to be back. I appreciate the opportunity and hope to make everyone proud," said Zoerner. "I love the field and now it's time to train a new generation."
Zoerner will be graduating in December with an associate degree in Welding Technology, one of his first passions growing up.
Wind Energy Technology is offered at TSTC's Harlingen and Sweetwater campuses.
For more information on Wind Energy Technology, visit tstc.edu/programs/WindEnergyTechnology.