(HARLINGEN) –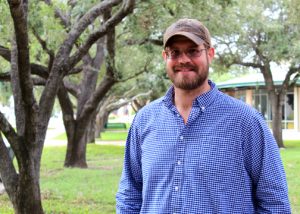 Andrew Storer is a Biomedical Equipment Technology student at Texas State Technical College. The Harlingen native holds an impressive 3.9 grade-point average and expects to earn his associate degree in Summer 2019.
The 29-year-old is a former emergency medical technician intermediate. He said the medical field and engineering have always been a passion for him, so he feels that his career change to Biomedical Equipment Technology gives him the best of both worlds.
When the father of two is not studying to maintain his high GPA, he can be found working to rebuild the Biomedical Club where he is currently serving as treasurer.
What are your plans after graduation?
After I graduate I plan on finding a job in my field and begin using my skills. Preferably, I hope I find a position in the Rio Grande Valley, but I'm open-minded and ready to move my family if I have to. I eventually hope to continue my education and pursue a bachelor's degree in biomedical science.
What's your dream job?
My dream job is to someday own an assisted living center for dementia, Alzheimer and hospice patients. With a business like this medical equipment is necessary, so I'll be able to maintain and repair my own equipment while caring for those who need the most help.
What has been your greatest accomplishment while at TSTC?
My greatest accomplishment has been returning to school full-time as a husband and father. It's sometimes a challenge, but I'm proud that I've been able to maintain high grades. Soon though, my greatest accomplishment will be graduating with my associate degree.
What greatest lesson have you learned about yourself or life?
Being a student has shown me that as long as I stay focused and do the best I can, I am able to achieve anything and reach my goals.
Who at TSTC has had the greatest influence on your success?
My Biomedical Equipment Technology Instructor Ray Longoria has had the greatest influence on my success. He's very experienced and knowledgeable in the field. He expects a lot from his students which in turn motivates us to make him proud and do well. He encourages us to be independent thinkers, troubleshooters and problem solvers.
What is your advice for future TSTC students?
My advice is study, study and study some more. I read everything that is given to us by our instructors. This, and finishing projects in class, is what's going to get us far. So always take the time to understand what you're studying and aim to excel.