(HARLINGEN) – More than 50 employers from across the state gathered at Texas State Technical College's Cultural Arts Center for the Fall 2018 Industry Job Fair, ready to hire TSTC students and graduates for good-paying, in-demand positions.
"This has been one of our most-attended job fairs yet," said Viviana Espinosa, TSTC director of Talent Management and Career Services. "Employers said they are excited to have been able to reach so many students to help fill the gaps in their workforce."
More than 500 TSTC students and alumni were dressed to impress at the fair, many with resumes in hand, applying for positions and completing on-site interviews.
Espinosa said the main objective during Industry Job Fair is to connect students and employers.
"Industry representatives are looking to fill positions with skilled employees, and many look at our students first because of the training they receive in the classroom. They're ready to work," said Espinosa. "And for our students, it's about graduating with that dream job in hand. And at Industry Job Fair, we're able to meet both student and industry needs."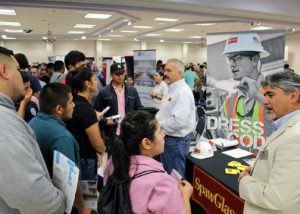 Carlos Gomez, a regional human resources manager with Martin Sprocket & Gear, said they have seen a lot of success from hiring graduates of TSTC's Precision Machining Technology program.
"The machinists and machine programmers we're able to hire from TSTC help us meet the needs of our customers," said Gomez. "Every TSTC student we have hired is now filling key roles within our company. We have even created new positions for TSTC graduates because of the impressive skill sets they have acquired through TSTC."
Gomez also said partnering with technical colleges like TSTC helps them fill a shortage in their workforce, especially with an increased number of similar companies opening and competing for skilled workers.
"Utilizing technical schools like TSTC has been a major factor in being able to hire more skilled employees. Everything is tied back to the bottom line, and being able to keep our machine shops filled helps us meet our customers' demands," said Gomez. "TSTC, to me, is the most valuable technical school in the state, and that opinion is shared by many on our executive management team at Martin Sprocket & Gear."
Many of the other prospective employers at the event shared the same sentiment.
Samuel Saldana, building services manager for SpawGlass Contractors, said many of the TSTC graduates they have hired have performed above expectations.
"The individuals we hire from TSTC are well-rounded and are trained in more than one area and know several trades within the construction industry," said Saldana. "Hiring skilled workers from TSTC brings our company value."
Saldana added that the longtime partnership between SpawGlass and TSTC has been very successful and helpful.
"There is a shortage of professionals in our industry, and the support that TSTC gives us is invaluable," said Saldana. "We're looking for individuals who have a basic understanding of our industry, who have been trained in various aspects of our field and display professionalism, and the graduates from TSTC's Building Construction program are the perfect fit."
TSTC's Talent Management and Career Services office connects students and employers statewide by hosting employee spotlights, interview practicums and industry job fairs.
It also assists TSTC students and alumni with resume writing, interview preparation, career research, job searches and networking.
For more information about TSTC's Talent Management and Career Services office, visit tstc.edu/student_life/careerservices or call 956-364-4940.