(HARLINGEN) – She was only 26-years-old when she came to Texas State Technical College as a counselor in Student Services. Now 30 years later, Liz Silva is closing this career chapter in her life to become Dr. Liz Silva.
"TSTC was my first job out of college," she said. "It has been my entire professional career. So leaving a place that means so much is tough, but it's time to devote my efforts toward completing my education."
Silva retired last month from TSTC and her dedication and service to the college was celebrated this week with her colleagues and many of her past students.
"I grew up at TSTC," said Silva. "I always knew I wanted to be a counselor in higher education. I come from a family of educators and TSTC was my dream job."
The Mercedes native grew up in a migrant family. Her mother, father and six older siblings worked the fields, and in their family it was never the question of "If you go to college," it was "Where are you going to college?"
"I was the youngest child so compared to my siblings I didn't do much migrant work," she said. "But I definitely had people to look up to when it came to college and careers."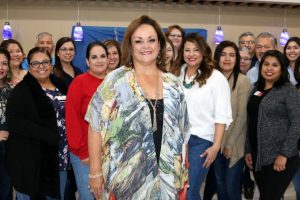 With the death of her father at 14, and her mother at 19, Silva was raised by her siblings. By this time they had careers and had completed undergrad and graduate degrees.
Silva followed in their footsteps and earned a bachelor's degree from Pan American University in 1984 in psychology and a master's in 1987 in guidance and counseling from the University of Texas-Pan American. She is now working on a doctorate degree in educational leadership at the University of Texas Rio Grande Valley.
"We have all seen success and put education at the forefront of everything. We have seen first-hand how it can change a life," said Silva. "And my brothers and sisters have been a big influence on my success."
Within the next year Silva will earn her doctoral degree and said this is what sparked her decision to retire.
"My brother, who was one of my biggest supporters, passed away last year. It's been hard, he practically raised me," said Silva. "And his dream was to see me become Dr. Liz Silva, so I'm finishing this for him. I want to make him proud."
Silva said the decision to retire was not considered lightly. She has enjoyed being a part of the TSTC family and making a difference in students' lives.
And although she climbed the ladder at TSTC from counselor, director of Student Life, director of Counseling, director of Support Services to her latest role as executive director of Student Support Services, Silva said her heart has always taken her back to counseling.
"Everything I do is for the students," she said. "I have dedicated my career to helping them achieve success and build their careers because that is what's most important to me. And seeing them succeed makes everything worthwhile."
She said she has always made it a point to interact with students outside of an office setting because that's how she is able to earn their trust and confidence to seek her when they have an issue.
"I've always believed as a counselor that sitting in my office was not helping students," she said. "It's putting your boots to the ground and working among them that makes all the difference."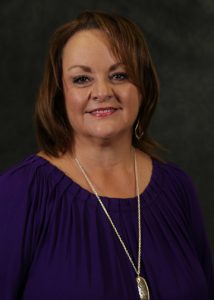 Silva discovered this by not only serving as the TSTC Student Government Association advisor for most of her career, but also with the help of her mentors and former TSTC employees Cathy Maples, Roy Cavazos and Servando Villarreal, who all served as either directors or vice presidents during their tenure at the college.
"These are the people who taught me what I know. They are the ones who also dedicated their lives to their students," she said. "They taught me patience and professionalism and helped guide me."
The highlights of Silva's career were exposing students to new experiences whether through student leadership on campus or through out-of-town conferences, and every commencement ceremony where she would see her students cross the finish line at TSTC.
Veronica Sanchez, a 2009 graduate from TSTC's Dental Hygiene program, worked closely with Silva during her time as Student Government Association president and said that it was Silva's positive influence that gave her the confidence she needed.
"Liz always has a smile for you. Her persistent drive to provide an excellent experience for students is inspiring," said Sanchez. "She understands how much hard work it takes to be a student. Without her my professional life may have never been ignited. And I thank her for always serving and leading the way for students."
Thirty years is a long time and while she will miss her colleagues, Silva said she will miss the students the most, and not so much the impact she made on them, but the impact they made on her.
"I learned a lot from my students," she said. "They taught me a lot about myself and life in general. They have made my career a rewarding one."
Silva hopes that once she completes her doctoral degree she can return to working in higher education, but this time in a classroom setting as a professor in her field to continue making a difference and inspiring students' lives.