(HARLINGEN) – Laramie Christ always knew college was in his future, but out of high school he could not find one that was the right fit. That is, until he found Texas State Technical College in Fort Bend County.
The Needville native was part of TSTC's first Heating, Ventilation and Air Conditioning (HVAC) graduating class in the early 2000's, when the college was still housed inside Wharton County Junior College (WCJC).
TSTC in Fort Bend County now stands on its own along Southwest Freeway in Rosenberg and includes two buildings: the Industrial Technology Center and Brazos Center that house 10 technical programs. The campus is expected to grow to hold at least eight buildings in the future.
"I wanted a career, but a four-year university was not for me," said Christ. "I knew I could not sit still long enough to learn anything by book. I learn by doing."
Christ was a student studying his academics at WCJC when he learned that TSTC was coming to town.
"I immediately loved TSTC's hands-on approach, so I enrolled," he said.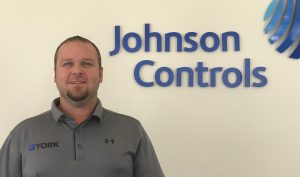 After doing his research, the 37-year-old realized that HVAC was a sustainable and steady business, which meant job security for him.
"Everyone needs HVAC services, especially in Texas," he said with a laugh. "It was the perfect program for me."
Upon earning his certificate and associate degree in HVAC Technology from TSTC he gained immediate employment with a local residential HVAC company.
After three years and gaining experience, he applied with Johnson Controls in Houston and 14 years later he is still there and climbing the ladder.
"TSTC gave me the foundation I needed to build a successful career," said Christ. "I knew I could find success, and TSTC allowed me to do that."
Christ began at Johnson Controls as an apprentice/tradesman. Then he got promoted to a journeyman/technician and now he is a technical team lead and oversees 15 employees.
Through his work at Johnson Controls he services large chillers and air handling equipment for 90 percent of Houston hospitals, the University of Houston, Shell, Exxon and TSTC in Fort Bend County.
"It's quite funny how I came to service TSTC," he said. "I arrived at the campus to talk about an instructor position and left with a service contract. It's pretty ironic."
Christ, once a year, also teaches a two-hour HVAC chillers course at TSTC. It's an in-depth lesson that includes a hands-on session.
He said he loves speaking with students, answering their questions and seeing in their eyes how much they love what they're learning.
"I love TSTC and this is my way of giving back and helping students grow," he said. "They have the desire to achieve success and we need them in the field."
Christ said he is proud to give back to the college that allowed him to gain a career with great pay and benefits that allows him to support his family.
"I've been able to do very well for my family thanks to TSTC," he said. "They have helped me exceed my own expectations."
HVAC Technology is offered at TSTC's Fort Bend County, Harlingen, North Texas, Waco and Williamson County campuses.
For more information on HVAC Technology, visit tstc.edu/programs/HVACTechnology.