(FORT BEND) – Counselors from across Fort Bend County and the Houston area recently gathered at Texas State Technical College for the Fort Bend County campus' second annual Counselor Update.
Counselor Updates are hosted by TSTC across the state to keep counselors informed about admission, financial aid and changes in programs, and to give them the opportunity to hear from students and alumni and meet TSTC faculty and staff.
During the recent event, more than 70 counselors got an in-depth look into the 10 programs offered at TSTC in Fort Bend County, took a tour of the campus and heard firsthand about the impact TSTC has on students and alumni. The campus' provost, Randy Wooten, also shared a few words with the counselors.
Millie Perez, a Houston Independent School District transition coach, voiced appreciation for the event and the opportunity to visit the campus.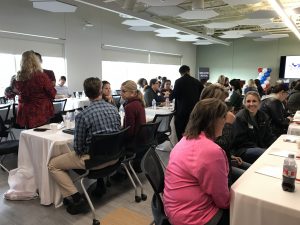 "This was my first Counselor Update and first time at TSTC. I'm very impressed," said Perez. "I've really enjoyed my experience."
Perez said she loves technical education and being able to have a part in helping fill the skills gap by learning about colleges like TSTC and the opportunities that are available for her students.
"I got an inside look at TSTC and got to explore the programs they offer," she said. "I look forward to passing everything I learned on to my students so that they know this is a great postsecondary education option right in their backyard."
TSTC student recruiter Yulonda Durst said the event was a success and that comments from counselors such as Perez made the achievement evident.
"Based on surveys, the counselors were very pleased with the programs they toured and stated they would definitely recommend TSTC to their students," said Durst. "This event helped counselors realize that TSTC is not just another two-year technical college, but the start that their students need to get on the right career path."
Durst said events like this help TSTC build relationships with counselors, career technology education teachers and school district administrators.
"Counselor Updates and other events like it help us build a pipeline from high school to TSTC that we as recruiters try to achieve during all of our recruiting events," said Durst. "And one of our main goals is to provide information that counselors can use to help students who they deem are good candidates for TSTC so they understand the benefits we provide."
Registration for Spring 2019 is underway. TSTC will host a Registration Rally, a one-stop registration event, at the TSTC Brazos Center on the Fort Bend County campus on Friday, December 7.
For more information on TSTC and its programs, visit tstc.edu.