(FORT BEND) – Texas State Technical College is looking for faculty to join the family and, to that end, will be hosting a Faculty Recruitment Fair on Thursday, December 13.
The event, hosted at TSTC's Brazos Center from 2 to 6:30 p.m., will offer those interested in bringing their talents to the classroom the opportunity to apply and complete an on-site interview with faculty and staff.
"We need additional faculty to support the growth the Fort Bend County campus is seeing. We're growing rapidly," said Toni Lerch, TSTC Human Resources manager. "We're looking for people who are passionate about their professional field and are ready to share their technical knowledge, skills and abilities with the workforce of tomorrow."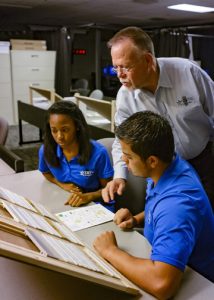 There are faculty openings in the high demand programs of Welding Technology, Precision Machining Technology, Diesel Equipment Technology, HVAC Technology, Cyber Security Technology and Electrical Power and Controls.
Lerch said ideal candidates should have at least three to five years experience in their industry expertise and an associate degree or higher.
Some teaching or training experience is preferred, but not required.
"We want people who can take what they have learned in the technical/industrial field and share it in the classroom," said Lerch. "Teaching a trade can be such a rewarding career and they will be joining a wonderful family."
TSTC offers competitive salaries; a state employee benefits package that includes health, dental and vision; and paid sick and vacation leave.
Lerch said she encourages everyone interested in applying to attend the recruiting event.
"This is not your typical event," said Lerch. "We'll be offering a glimpse inside one of the area's newest campuses and showcasing our classrooms and labs. Not many people get to tour a place they're applying to during a recruitment fair, so this is a great opportunity."
TSTC Associate Provost Bryan Bowling said instructors play a critical and rewarding role in changing lives.
"There is a huge technical skills gap in Texas today and with the incredible growth we're seeing in the state and at TSTC in Fort Bend County we need additional instructors so we can continue to meet the increasing demand for technically skilled graduates," said Bowling. "Our instructors are the heart of our organization and we rely heavily on the breadth of their knowledge."
TSTC prides itself on being a "great place to work" offering great benefits, employee development opportunities and state-of-the-art teaching facilities.
With more than 200 positions available statewide, applications are being accepted. Positions are scheduled to be filled by January. For more information or to apply, visit tstc.jobs.