(HARLINGEN)  – Bringing emerging technology into the hands of its students, Texas State Technical College will be implementing HoloLens Mixed Reality into its curriculum as early as next year.
The first programs to introduce the Microsoft application, in partnership with Pearson Education, are Architectural Design and Engineering Graphics, Vocational and Registered Nursing and Chemical Technology.
Students strap on a Microsoft HoloLens, similar to virtual reality gaming headsets, to see 3D computer graphics shown on top of the real-world classroom environment.
"There is nothing as powerful as using HoloLens for educating our students," said TSTC Senior Vice President of Student Learning Hector Yanez. "This is a unique tool for explaining lessons in-depth, beyond a traditional lecture. Students can feel the knowledge."
With a number of virtual reality and augmented reality applications being utilized in higher education, mixed reality brings a different approach to the already popular technology.
Unlike its counterparts that set a user in a virtual, or digital landscape, mixed reality blends the person's real-world and digital world, and introduces a hologram that the user can interact with.
It is a three-dimensional immersive learning experience that can be used anywhere or anytime.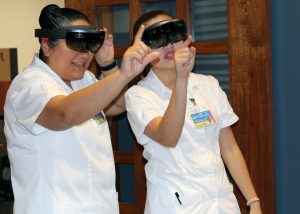 "Mixed reality applications have been around for only a few years," said TSTC Executive Director of Instructional Support Orlando Penuelas. "So there was a lot of research that went into this decision making; this is a great investment for our students and institution."
A pair of HoloLens applications: HoloPatient and HoloChemistry, were among the first to be demonstrated to TSTC students recently.
TSTC Vocational Nursing students Ana Decuesta and Celina Romo were first to use HoloPatient to interact with holographic medical scenarios.
"I've only seen this type of technology on TV. So being able to actually touch it and use it is exciting," said Romo, the 39-year-old Raymondville native. "At first I was intimated; it's cutting edge technology, but it turned out to be very user friendly and I can't wait until it's fully implemented into our program."
Decuesta shared the same sentiment. She said she is happy that this type of technology is now available to her and her peers.
"This type of technology is usually found in big universities, so TSTC giving us this opportunity is invaluable to our training," said 19-year-old Decuesta. "This will allow us to build on our confidence, which is key in our field, before beginning our clinical rotations and beginning our careers."
Yanez said the goal of the applications is to bridge a gap between understanding and visualization, which will lead to student retention and placing more Texans into good paying jobs.
"HoloLens gives TSTC and our students a competitive edge," said Yanez. "We are just seeing the start of the endless possibilities that these tools can offer our students."
Penuelas agrees that with industry increasingly using mixed reality for their daily processes, training students in the software and how to use HoloLens correctly will make them more marketable when looking to start their careers.
Large organizations such as Chevron and NASA are using HoloLens to provide visual aids and remote assistance for their employees.
"HoloLens is the golden standard for mixed reality and our students have it at their fingertips," said Penuelas. "This will definitely give them a leg up."
TSTC in Harlingen will kick off the pilot program in the coming year and will eventually be implemented at the college's 10 other campuses across the state.
"Our goal is to implement HoloLens statewide once we completely understand how to implement the system and its applications," said Yanez. "Every TSTC campus will have access to this advanced technology sooner rather than later."
Registration for Spring 2019 is underway. The last day to register is Jan. 2.
For more information on the programs offered, to apply or register, visit tstc.edu.