(FORT BEND) – With a bachelor's degree, but ready for a career change and a new challenge, 58-year-old Joel Staner enrolled in Diesel Equipment Technology-Heavy Truck Specialization at Texas State Technical College in Fort Bend County two years ago.
And on Monday, Staner will graduate with an associate degree and as a Board of Regent honors graduate with a perfect 4.0 grade-point average.
"TSTC has been such a great experience for me," said Staner. "I was a little intimidated coming back to school at my age, but I think that also gave me an advantage because I knew the kind of dedication and commitment it would take to successfully finish."
Staner said when he first received his bachelor's degree in psychology and general business in 1993 he was young and only took this path because it was the only opportunity available to him at the time.
"I never used my degree," said the Sheridan native. "I took advantage of the educational opportunity, but these fields were never truly my passion."
Leading up to his time at TSTC, Staner worked as a car salesman, a hardware customer service and sales specialist and as a general manager for an animal rescue shelter in his hometown.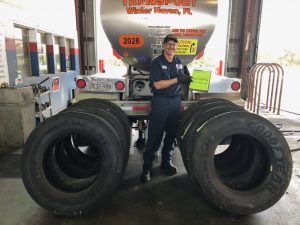 For the man who owns acreage with horses, chickens and at least a dozen dogs and cats, the animal shelter gig was his favorite.
"For the last nine years I have worked at an animal shelter and it's been the greatest," said Staner. "But I needed a change, a career of my own; one that I was passionate about."
With the exception of minor repair and maintenance on heavy farm equipment such as tractors, the diesel equipment field was new to Staner.
"After touring the campus and visiting with advisors, Diesel Equipment Technology seemed like the best fit for me," said Staner. "And honestly the hands-on approach TSTC takes in its teaching is what got me."
Staner said what made all of the difference during his time at TSTC was the genuine care faculty has for their students and their willingness to answer questions and ensure that students understand the material.
He credits not only his hard work, but also the faculty for his success because not only was he inducted into Phi Theta Kappa Honor Society for his grades, but he accepted a job offer and started his career before earning his degree.
"This college offers its students so many opportunities to network with industry recruiters and professionals," said Staner. "It was during one of these events that I was offered a job."
Staner is now a diesel technician with Travel Centers of America, where he has been working full-time since May.
"The pay is great, the benefits are excellent and they worked with my school schedule," said Staner. "Going to school and working full-time has been no easy feat."
Unfortunately, for Staner, he will be traveling to Ohio for job training on the day of TSTC in Fort Bend County's commencement, so he will be unable to walk the stage in his cap and gown.
"Sure, I'll miss the commencement experience, but it's worth it," he said. "This is the career that will sustain me for the next 15 years or so. So I'm excited to be done and focusing on a new career."
Staner also said there may be management opportunities with Travel Centers of America in the future, so just maybe he'll get to use his general business degree after all.
"I changed directions in my life and TSTC was the vehicle that enabled me to change careers," said Staner.
Staner is one of close to 1,000 TSTC students earning a certificate or associate degree statewide and will join an alumni network of more than 100,000 TSTC graduates.
TSTC in Fort Bend County will host its commencement ceremony on Monday, December 10 at the Stafford Centre in Stafford, Texas at 6 p.m.
For more information on Diesel Equipment Technology, visit tstc.edu/programs/DieselEquipmentTechnology.