(HARLINGEN) – After four semesters of blood, sweat, tears and sacrifice, Texas State Technical College Vocational Nursing students celebrated the completion of their program with a pinning ceremony held Saturday, Dec. 8.
All thirteen nursing students earned certificates in Vocational Nursing during TSTC's commencement ceremony at the Harlingen Municipal Auditorium on Dec. 14.
The pinning ceremony was described by TSTC Vocational Nursing program director Heather Sauceda as the rite of passage into the nursing profession.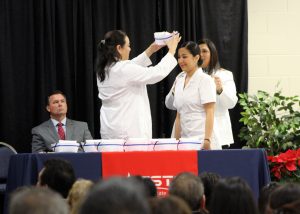 "I am so proud of each and every one of my students," Sauceda said tearfully. "They have worked so hard and put in countless hours to achieve everything they have. And they deserve to be celebrated."
The pinning ceremony stems from a tradition that dates back to the 19th century, when Florence Nightingale, a trailblazing figure in the nursing profession and the founder of modern-day nursing, trained nurses to care for wounded soldiers.
The Dec. 8 ceremony included a capping ceremony, presentation of pins, candle-lighting ceremony that signified the light of knowledge, reciting of the Nightingale Pledge, and blessing of hands and benediction led by Pastor Danny Anderson of the Bridge-Rio Hondo Baptist Church.
"These graduates are confident, passionate, and I know they will be the best nurses they can be," said Sauceda. "Today marks the beginning for them."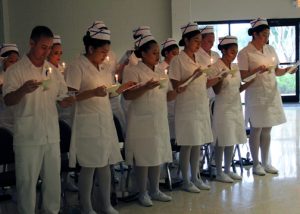 The program's valedictorian, Ivette Cruz, and salutatorian, Julie Villarreal, were also honored at the ceremony for their academic achievements.
"I never imagined I would be valedictorian," said Cruz. "In fact, in the beginning I felt like quitting. I didn't start strong and failed some exams, but here we are.  I've come a long way, and I have my entire family to thank for this."
"This is God's purpose for us, and today we're fulfilling his purpose," said Villarreal through tears of joy. "But our success doesn't only belong to us, it also belongs to everyone who has supported us and guided us along the way."
Villarreal also left her fellow graduates with some words of wisdom: "Never doubt your ability to make a difference in someone's life."
The ceremony also included addresses from TSTC Provost Cledia Hernandez, Associate Provost Jean Lashbrook, and guest speaker and Director of Nursing Operations at South Texas Rehabilitation Hospital Gabriela Garza.
"You are now part of someone's life journey and walking alongside people during their greatest time of need," said Garza. "The key to being a great nurse is knowing yourself. So, always remember the hard work it has taken to get to where you are, and hold it close to your heart and always remember why nursing chose you."
The nursing graduates join an alumni network of more than 100,000 TSTC graduates.
The Vocational Nursing pinning ceremony is held twice a year during the Summer and Fall semesters.
For more information on Vocational Nursing at TSTC or to apply, visit tstc.edu/programs/Nursing.