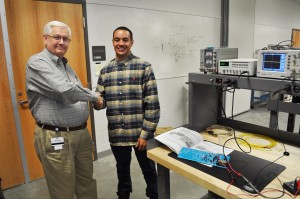 (HUTTO) – Marc Marzan has already gotten a taste of the telecommunications world during his first semester at Texas State Technical College.
Marzan, 23, of Hutto moved a telephone jack in a computer lab at the college's East Williamson County Higher Education Center in Hutto. The work was good practice for the certificate he is working on. TSTC began the Global Communications System Installer certificate this semester.
"It has to do with transferring data to servers and how everything in the world connects with the data," he said about the growing job field.
Claude Dyson, an instructor in the certificate program, said Marzan should not have a problem with his job hunting because there are not enough networking and fiber optics technicians in the country. Dyson said certificate holders can earn up to $35 per hour. The 2014 median pay for telecommunications equipment installers was $55,190, according to the U.S. Bureau of Labor Statistics.
Dyson is teaching Marzan in his classes.
"It one of a kind because I don't think there is anyone that can get this kind of teaching," Marzan said. "We go through the syllabus and once I understand and pick up something quickly, we move on. If there is anything I'm struggling on, I stop the instructor and make sure I understand and he clears it up for me."
Marzan has enjoyed the hands-on work in the electronics and telecommunication classes he is taking.
"We are ahead in our syllabi so there is free time to do cool projects," he said. "Right now I'm building a radio with the transistors, resistors, capacitors and circuit board."
Marzan is originally from central Florida and joined his parents in Texas after visiting them. Before enrolling at TSTC, Marzan installed fire sprinkler systems, fire alarm panels and rebuilt fire extinguishers. He learned about TSTC and the certificate program after a relative told him about the Hutto campus.
Marzan has already interviewed with Austin-area businesses in the fiber optics field. But, he has bigger plans for his future.
"I want to work for somebody for now to figure out how the world works and the global communications terminology," he said. "I look forward to one day starting my own company installing new phone systems, fiber optics and having contracts."
The College Preview at TSTC will be from 9 a.m. to 2 p.m. Thursday, April 14. For more information go to tstc.edu/openhouse.
Apply today at tstc.edu. Registration for summer and fall semesters began Monday, April 4.