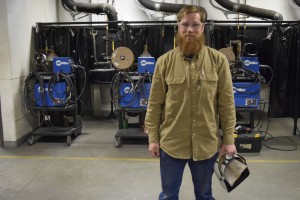 (HUTTO) – Mike Angerstein's career as an infantryman in the U.S. Army took him from Kentucky to Alaska and two deployments to Afghanistan and Iraq.
But he would not trade the experiences for anything.
Angerstein, 27, of Hutto enjoyed the brotherhood of being involved in the military. And, being in the Army has enabled him to use veterans benefits and transition into becoming a Welding Technology major at Texas State Technical College attending the East Williamson County Higher Education Center in Hutto.
"The hardest part is getting the paperwork together for the VA (Veterans Administration) and back to school," he said. "It's a lot of leg work but well worth it. Research your potential degree program and career opportunities."
Brooke Williams, an instructor in the Welding Technology program, said she admired Angerstein's interest in wanting to learn more about welding.
"The military experience lends itself to the welding industry," she said. "They are similar in work ethic and leadership. Welding is very independent."
Angerstein has had a long time fascination with welding.
"It's one of those fields you can study for 60 years and still not learn everything," he said.
He discovered TSTC's Welding Technology program by searching online. Once he began taking classes, he joined the student chapter of the American Welding Society.
He has enjoyed seeing the science of how metals react to each other in his welding classes.
Angerstein has learned about stick welding, a method using a short circuited rod that is melted at one end and creates molten droplets. He has also used a CNC plasma cutting machine for making metal cut outs.
Angerstein's plans for graduation in December are wide open. He is saving money to work on a certification for non-destructive testing, an analysis method used to determine properties without causing damage.
"I'll go where the money is," he said. "Pipeline work would be good."
The College Preview at TSTC will be from 9 a.m. to 2 p.m. Thursday, April 14. For more information go to tstc.edu/openhouse.
Apply today at tstc.edu. Registration for summer and fall semesters begins Monday, April 4.