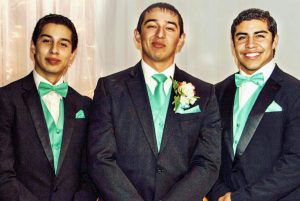 (SWEETWATER) – When Blake Chavarria began taking Wind Energy classes at Texas State Technical College in 2010, he didn't know he would be influencing his younger brothers' college decisions. But now, almost four years after Blake graduated, his brother Aaron finds himself in his third semester in the program, and the youngest, Andrew, starts in the fall.
After hearing about the booming Wind Energy field while in high school, Blake chose this technology to combine his passion with his previous experience.
"Wind Energy was something that always interested me because, first of all, heights are my thing. I love dealing with heights," he said. "But, also because I had worked in construction on the electrical side, wiring houses and stuff like that. I saw the program as a stepping stone for more knowledge with what I liked and what sparked my interest."
Blake now works as a substation and transmission electrician at Oncor, and he's been there since January 2013, just a short time after graduating. Due to electrical skills learned in TSTC's Wind Energy Technology, Oncor often hires graduates of the program to work for them.
"Learning the basic components of a wind turbine – the gears, mechanical parts and hydraulic systems – all of that ties into the mechanical things we deal with," Blake said. "As far as the electrical, everything that we did in school for the wind turbines – learning how to troubleshoot, read schematics, use small electrical components, learning all the anti-numbers – every bit of it transferred over into my type of work."
After seeing Blake's success at TSTC, Aaron followed suit and began the program after graduating from high school in 2015.
"The program created a great opportunity for Blake," Aaron said. "So I wanted to go into Wind Energy because it was great financially, first and foremost, and second, because of the opportunity to get a good job."
Aaron said Blake has always set an example for him, whether it was a good one or a bad one.
"He's made some mistakes in the past and I've learned from those," Aaron said. "He's also done a lot of good things. So I've followed his good steps, and done the opposite of what he's done in the bad situations. It's been positive and negative, but it's been fun."
So far, Aaron's favorite part about TSTC has been the hands-on experience.
"I've been so used to going to regular school, so I've enjoyed being able to learn something other than basic math and science," Aaron said. "I really enjoy learning the fundamentals of electricity. I've climbed the towers a couple of times already. It was the experience of a lifetime. It's a big reason I'm getting into the industry – the experience of working 80 meters in the air. I believe I've chosen the right career path."
While Andrew looks up to his brothers, he said he mainly chose Wind Energy Technology because he also loves heights.
"That's one main reason," Andrew said, "but I also find it very interesting to see how they work and how they can help make our earth green."
Andrew is excited to begin school in the fall.
"I'm looking forward to seeing how exactly a windmill works, what it takes for it to work properly and how to fix the defects they have at times," he said.
Blake said he wasn't surprised to learn that his brothers wanted to join the industry also.
"They saw the passion that I had when I was at TSTC and going through the Wind Energy program," Blake said. "I would always share with them what I was learning and all the cool facts, and what's coming in the future, the opportunities and what doors it can open for you. I told Aaron about the American Wind Energy Association conference and now he's there right now!"
Blake is honored that they chose to study Wind Energy.
"I'm very proud that my brothers have chosen these steps rather than to throw their life away on something meaningless," he said. "It just makes me really happy, really joyous, that they're following these footsteps because I set an example as their oldest brother. I couldn't be more proud of them."
TSTC is registering now for the fall semester. For more information on the Wind Energy program, visit www.tstc.edu/program/WindEnergyTechnology.
– # –