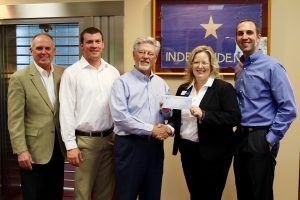 (SWEETWATER) — Bill Johnson, president and CEO of Texas National Bank in Sweetwater, presented Texas State Technical College with a $1,000 check to go toward the Texan Success Scholarship Fund at a 3 p.m. presentation Wednesday, July 13, at Texas National Bank.
The Texan Success Scholarship is a "non-need based" $1,000 award for new, full-time students to provide cost assistance for the fall semester at TSTC.
Students are nominated for the scholarship by a high school academic or career counselor, a TSTC recruiter or TSTC faculty member. Students are then evaluated and can be awarded if they are eligible for high school graduation, have a minimum 2.0 grade-point average, have completed the conditional admission status for TSTC and demonstrated the potential to succeed in their desired technical program.
Johnson said Texas National Bank chose to make this donation because they share TSTC's view of the importance of helping Texans prepare for the high-tech jobs required in today's economy.
"We agree that not everyone needs to spend the time or money to obtain a four-year bachelor's degree," said Johnson. "Graduates of TSTC are able to enter the workforce quicker and oftentimes at compensation rates higher than those available to many graduates of liberal arts universities. The fact that TSTC in West Texas is right here in our backyard is icing on the cake."
TSTC in West Texas Provost Eliska Smith said it's exciting to see momentum building in Sweetwater for the Texan Success Scholarship Campaign.
"This donation means TSTC can contribute to strengthening Texas' workforce," Smith said. "With the Texan Success Scholarship, we are able to help more Sweetwater-area students start their careers in welding, diesel, automotive, wind, nursing and more."
Texas National Bank in Sweetwater has supported the college many times throughout the bank's 21-year history. Johnson served for several years on the board of directors of The TSTC Foundation. He also served for many years on the board of the Rolling Plains Technical Foundation before it merged with The TSTC Foundation.

TSTC is registering for the fall semester through Aug. 22. For more information on programs offered, or to apply, visit www.tstc.edu.