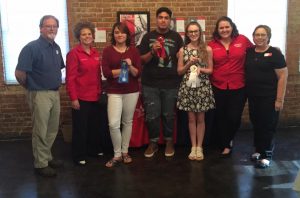 (ABILENE) – Twenty-two pieces of art by Texas State Technical College's Digital Arts and Digital Media Design students will be displayed in an exhibition called "Building the Future" through the end of July.
The exhibition, located at the Cockerell – Upstairs gallery at 1133 N. Second St., features pieces from video to photography and digital painting.
TSTC Instructor Amelia Carnagey said the show gives students an opportunity to get their name out to the community.
"Abilene is a very college-oriented and art-oriented city," Carnagey said. "With the exhibition, we wanted to instill in our students a desire to get out into the community. We not only show them that they are artists, but we also help to introduce them to the community in a professional light."
Students from the program submitted their work to be considered, and TSTC faculty chose the best to be featured. First place was awarded to Digital Arts student Amber Hernandez for her piece "Fly Fishing." In second place was Digital Media Design student Alejandro Salcido with "Girl in Endless Field," and in third place was Digital Arts student Hannah Elliot with "Before Ballet Class."
The works of art will be on view at the Cockerell – Upstairs gallery through July 30. Each piece is available for purchase through the artist.

For more information on the Digital Media Design program, visit www.tstc.edu or call 325-672-7091.