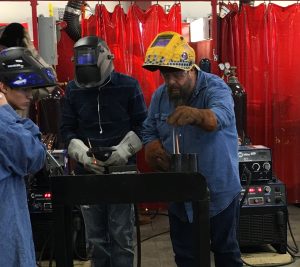 (RED OAK) – Texas State Technical College Welding Instructor Donnie Williams has been awarded the American Welding Society's Howard E. Adkins Memorial Instructor District Award for North Texas.
The award recognizes high school, trade school, technical institute or junior college instructors whose teaching has advanced their students' knowledge of welding.
"It's recognition of my dedication to my profession," Williams said. "It shows me that people recognize my efforts and that what I do is recognized by my peers. I was very glad for it. It kind of validates what I'm doing."
The Hillsboro resident attended welding school in Dallas and later earned a Certificate of Technology in Petroleum Technology from Odessa College. He began teaching at TSTC in North Texas in January.
A second-generation welder, Williams began welding when he was 16 years old.
"I've been a welder all my life," Williams said. "I spent my first eight years in the industry working in the oil field on pipe. In the early '80s, the oil field went bust, so I moved into structural welding and moved out of the oil field. Eventually I got into quality control and weld inspection and got my welding inspector certification. I moved from there into education, became a certified educator through the American Welding Society, and that's where I am today."
Williams has been a member of the American Welding Society since 1997. He serves as treasurer and sits on the executive board of the North Texas chapter. Williams is working toward starting an AWS student chapter at TSTC.
"We have students becoming members," Williams said. "A prerequisite for a chapter is that you have at least 15 student members. That's the phase that we're in right now."
Williams said throughout the years he's seen growth in his students.
"Not only here at TSTC, but a lot of students that I've had over the years, I've maintained contact with," Williams said. "Some have gone on to own their own business; some have gone into quality control and inspection. This is why I'm trying to take the students I currently have and expand their knowledge, so they can go into a variety of trades."
In addition to teaching, Williams is also a certified welding inspector and owns his own welding shop in Hillsboro.
"There's a lot of real-world application that I bring to the classroom to benefit the students," Williams said. "Much of what I do at my shop I document. Some of it I film, some I take pictures of. I incorporate that into my lessons in the classroom. I want to include my students in my work to show them the hands-on application of what they're doing."
For more information on TSTC's welding program, visit tstc.edu.